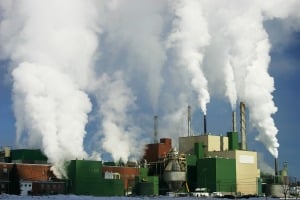 In October 2016, Canadian Prime Minister Justin Trudeau announced that provinces must develop a plan to reduce carbon emissions by 2018 or face a C$10 tax per ton of emissions. This figure would increase by C$10 per ton each year until 2022, when emissions would be priced at C$50 per ton. This tax will only be imposed if provincial leaders fail to come up with a plan to limit emissions of their own.
The new carbon pricing scheme is part of the government's effort to comply with the Paris agreement. Signed earlier this year, the agreement aims to limit the global temperature increase this century to less than 2 degrees Celsius above pre-industrial levels. While further reductions will be needed for Canada to fully comply with its international commitment, the proposed carbon pricing scheme is seen as an important first step.
The announcement was met with mixed reviews from provincial leaders. Some provinces have already committed to mitigating climate change, including Ontario, Quebec, British Columbia, and Alberta. On the other hand, Saskatchewan premier Brad Wall has been a vocal opponent of the policy, arguing that increased carbon prices will make Canadian exports of natural resources (especially oil and gas) less competitive.
Climate Change and the Energy Sector: Economic Impacts
Carbon pricing and other climate change policies will directly impact electricity generation, oil and gas, and other electricity-intensive industries. The oil and gas sector is one of the largest emitters of greenhouse gases, including methane, which actually contributes more to global warming than carbon dioxide. The U.S. and Canada recently agreed to reduce methane emissions in the oil and gas sector 45 percent from 2012 levels by 2025. Tighter regulations will almost certainly mean higher prices for producers, resulting in a loss of market share to other world producers and higher fuel prices for consumers.
This is especially true for coal. Coal power plants are also a major source of carbon emissions, and are gradually being phased out and replaced by cleaner natural gas plants in Canada and elsewhere. Coal is one of the cheapest sources of energy for electricity production, and the industry is a large employer that is highly regarded by workers and communities. As a result, the phase out faces resistance for both economic and political reasons. Increased electricity costs could have spillover effects in the steel and automotive industries, resulting in higher prices in those sectors as well.
Easing the Economic Burden
Analysts disagree on the impact that carbon pricing will have on households and consumer prices. In large part it depends on how the provinces structure their carbon pricing programs, and how they choose to use generated revenue. Increased revenues from the carbon tax could allow a province to lower other tax rates, leaving consumers with higher energy prices but more cash in their pockets. Another option is to provide corporate subsidies tied to a firm's output (sometimes called Output-Based Aid, or OBA). These subsidies offset the impact of carbon pricing on a company's bottom line without reducing the incentive to control emissions, curbing fears about the loss of international competitiveness.
Although increased attention to climate change is causing disruption in many sectors, it need not be all bad news for the economy. A commitment to reducing greenhouse gas emissions creates an opportunity for growth in renewable energy generation and other green technology. Even natural gas power plants emit carbon dioxide and will eventually need to be replaced with cleaner options like wind and solar. Some Canadian provinces may choose to encourage this transition directly by using revenues from carbon pricing to provide subsidies for renewable energy research and production. In other cases, the transition may occur as the cost of traditional forms of electricity production increase under carbon pricing schemes and climate change regulations.
For firms with high emissions, carbon pricing schemes like the one proposed in Canada are encouraging spending to develop technologies that capture and decrease carbon emissions. Additionally, firms with high electricity costs will continue to seek out energy-saving technologies. For consumers, the transition to energy-efficient appliances and transportation equipment will be slower, but these trends represent new opportunities for long-term growth.
More information on how climate change policies are creating new demand in specific markets can be found in the following Freedonia studies:
---
About the Author: Julianne Dunn is an Economist at The Freedonia Group, a leading international business research company publishing more than 100 studies annually.