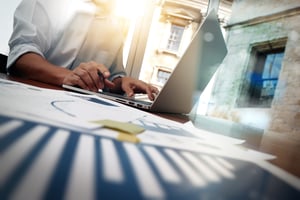 There's no question the economic fallout from COVID-19 has been severe, and the impact continues to mount across the world. Daily news headlines are full of tragic stories and dire predictions, but are there any relative bright spots in the market during this gloomy period?
Drawing on the latest data from leading market research firms, this article shines a spotlight on a few companies and markets that are experiencing surging demand during this uniquely challenging time.
Grocery Stores and Other Essential Retailers
Shoppers are continuing to make bulk purchases and empty shelves in supermarkets, driving up sales. Monthly sales data from the US Census Bureau reported that unadjusted retail sales at food and beverage stores posted a 26% increase over comparable sales in March 2019.
"Grocers have responded admirably, acting quickly to introduce new measures when their products are in high demand," according to the report COVID-19 HOT TOPIC: Retailers' Response to COVID-19 by GlobalData.
While retailers that offer more discretionary products will be pummeled with losses, companies that focus on staples like Kroger, Costco, and Walmart are strongly positioned.
Online Shopping
Stay at home orders due to the COVID-19 pandemic have also led to a rise in online shopping, particularly for "health products, food, and some educational and home office items," as outlined in the report COVID-19 Impact on Global B2C E-Commerce and Online Payments: April 2020 by yStats.com.
Other products that could see rising sales include sporting equipment and arts and crafts, according to the report Product Opportunities During COVID-19.
Consumer Health Products
Another winner is companies that manufacture, market, or sell consumer health products such as over-the-counter cough, cold and flu products, and immunity supplements. These products are likely to experience increasing demand, according to the report Mapping the Effects of Coronavirus on Consumer Health by Euromonitor International.
Personal Protective Equipment
Personal protective equipment such as medical gloves are in high demand, and many healthcare workers face limited supplies for some of these critical items.
As a result, the $10.8 billion global market for medical gloves is projected to climb sharply in 2020 at a rate of 12.5%, according to Global Medical Gloves: COVID-19 Impact Analysis by The Freedonia Group.
"Demand for disposable gloves has significantly surpassed levels seen during earlier SARS and H1N1 epidemics," the report states.
Molecular Diagnostics and Immunoassays
Kalorama Information's analysis team emphasizes the role of molecular diagnostics during the COVID-19 pandemic. "COVID-19 has seen the molecular in vitro diagnostics (IVD) industry bring out its best efforts in terms of fast test RT-PCR tests for their systems, point of care solutions, syndromic tests, high throughput systems and surge production on badly needed kits," according to the report Kalorama COVID-19 Update.
Another market shift is the growing importance of immunoassays, "Never have immunoassays been of such worldwide attention, as antibody tests are greatly sought," the report notes.
Telehealth and Telemedicine
An additional area of healthcare that is experiencing rapid change and adoption is remote patient monitoring. Telehealth and telemedicine have become an essential means of receiving care, as entire populations seek to stay home and limit exposure.
"Already a healthcare trend that was catching on but perhaps struggling to convince payors of its critical necessity, remote patient monitoring and telehealth transformed overnight with social distancing policies and relaxed HIPAA rules," according to Kalorama.
The COVID-19 pandemic is expected to be a major driver of telemedicine, and according to Mind Commerce, could boost companies like Teladoc Health, Inc, a leader in this growing market.
Vaccines
Companies around the world are rushing to develop an effective vaccine for COVID-19.
"The vaccine market is poised for a rather substantial increase in the next five years due to the number of vaccines in development and the push for a COVID-19 vaccine," Kalorama Information states in its new report Vaccine Development and Production Trends, COVID-19 and Other Vaccines Pipeline.
Videoconferencing
More and more individuals are turning to videoconferencing in order to socialize and participate in everyday activities that must now take place at home, such as remote work, educational classes, book groups, happy hours, or religious services.
As a result, Zoom Video Communications has now become a household name. "With easy to use, intuitive feature functionality, no-cost personal use and cost-effective fully featured business use options, Zoom has arisen as a force of reckoning in the cloud conferencing and communication space," according to the report Cloud Conferencing and Communications Comparative Analysis: Zoom Vs. Competitors by Mind Commerce.
Pet E-Commerce and Dog & Cat Adoptions
More people are also buying dogs and cats to keep themselves company and to entertain their kids at home. New pet owners tend to be key buyers of pet products, and increasing pet ownership rates could boost the performance of pet food and pet treats, according to Packaged Facts.
Online pet retailers like Chewy may benefit and capture a greater share of the market in the weeks to come.
Where to Learn More
Need more market research related to the impact of the COVID-19 pandemic? With reports from more than 350 top publishers, MarketResearch.com offers a comprehensive collection of trusted insights to answer your toughest business questions. Search our latest reports on COVID-19, and get in touch with a research specialist for help finding exactly what you need.
Additional Articles