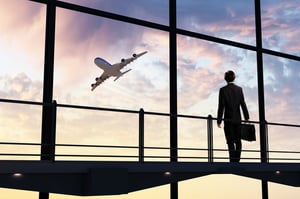 While COVID-19 continues to endanger many different sectors of the economy, "no industry has seen a greater impact than airlines," according to the market research firm GlobalData.
Euromonitor International offers a similarly bleak outlook, describing travel and tourism as "an industry on its knees," with airlines "among the hardest hit." The pandemic has caused a nearly 90% drop in passenger demand, and airlines face mounting debt, liquidity concerns, and potential bankruptcy.
Even after travel restrictions lift, the once-lucrative segment of business travel may be permanently transformed as corporations become accustomed to the cheaper, more efficient, and safer alternative of video conferencing. Surging unemployment levels will also stifle consumer expenditures on travel along with weak passenger confidence and ongoing negative press.
Due to the impact of COVID-19, some investors have shunned the airline industry altogether. Back in May, the billionaire investor Warren Buffet famously sold Berkshire Hathaway's entire stake in United, American, Southwest, and Delta, stating, "The world has changed for airlines."
An Industry Riddled with Challenges
Before the pandemic hit, airlines struggled to boost revenue, even as they experienced increasing volumes of passenger and cargo traffic. Over the past five years, earnings for the global airlines industry grew at a less-than-desirable pace, according to IBISWorld, due to unstable fuel prices, increasing competition, the prevalence of low-cost airfare, and a drop in world trade. Known for high fixed operational costs, airlines have often faced a variety of serious market challenges.
Mapping Out a Potential Recovery
The current market environment is full of reasons for concern, but an eventual recovery is expected for the global airline industry.
A recent poll of 537 aviation professionals, including aerospace and airline executives from around the globe, provides some perspective on the possible timeline and nature of a potential recovery.
According to the survey, 60% thought it may take the industry 18 months to 3 years to reach pre-COVID levels. A significant majority (89%) said the industry would recover, but 69% said the industry would be fundamentally changed.
This recovery timeline roughly aligns with an estimate by the market research firm Frost & Sullivan, which predicts that passenger numbers will hit pre-pandemic levels in two years or more.
Airline Business Strategies During COVID-19
Although a recovery may not be imminent, there are some growth opportunities available for airports and airlines.
Frost & Sullivan suggests several ways airlines can navigate this uncertain period:
Leverage digital solutions to shift resources and efficiently scale up/down operations. Digital tools can help with a wide range of needs including business efficiency, contactless boarding, revenue management, and network planning.
Implement next-generation technologies. The Internet of Things and big data analytics can help optimize operations for airlines and airports and make health screenings more efficient.
Negotiate deals to reduce fixed costs, employ fiscal discipline, and work to protect employee wellbeing.
Additional Airlines Market Research
Are you looking for up-to-date airlines industry analysis? MarketResearch.com provides insightful, data-packed reports on just about every topic you can think of related to the airlines industry. We cover every region of the globe, individual countries, and a wide variety of market segments.
Scroll through our latest airlines market research reports from leading firms such as Euromonitor International, Frost & Sullivan, GlobalData, and many others.
---
About the author: Sarah Schmidt is a Managing Editor at MarketResearch.com, a leading provider of global market intelligence products and services.
---
Related Articles