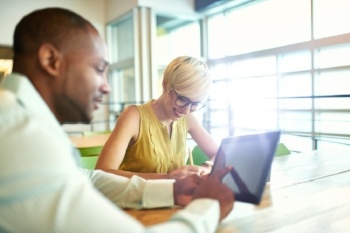 The professional services market is growing rapidly, according to the recently published report Professional Services Market Global Report 2017 by The Business Research Company. The market is forecast to register a 5.4% growth rate from 2016 to 2020, reaching almost $5 trillion.
The value was split by design, research, promotional, and consulting services; legal services; and accounting segments in the ratio of 71:17:12. Even though accounting was the smallest segment in the market, it had the highest growth rate at 5.9% in the historic period from 2012 to 2016, and it is forecast to grow 6.2% from 2016 to 2020. This is due to the increasing demand for tax filings, pay roll processing, financial statements auditing, and other accounting services.
The Americas region was the largest in the professional services market in 2016, accounting for around 40% of the market. This can be attributed to the high demand for services such as accounting, legal, advertising, photographic services, and other professional services from companies across all industries. When many companies develop or expand their global leadership positions, the demand for these services also rises.
Those who are employed in professional service industries are often highly paid, as the industry's product for sale is knowledge and expertise. In order to stay competitive and up to date, professionals in this industry should be aware of several key market trends, which are discussed below.
1. Social Media Adoption
For finding and engaging clients online, marketing services, and monitoring competitors, professional services firms have widely started using social media. This is an understandable step forward since the global web content, search portals, and social media market grew at 13% in the historic period, and it is forecast to register a 11.8% growth rate from 2016 to 2020, driven by the increased number of internet users worldwide and by people's attitude towards new ways of communication through social media.
An enhanced social media presence helps professional services firms to improve brand awareness, increase their client base, boost client satisfaction, and deepen client relationships. The rapidly increasing use of social media makes it important for professional services firms to harness the power of social media to achieve their firms' overall goal and vision.
2. Virtual Firms in the Professional Industry
Rapid technology change, increased pressure to reduce costs, and increased use of smartphones is making the concept of virtual firms more attractive to many in the industry. In the future, more professional firms will go virtual and have few permanent offices.
By hiring contract employees, placing the entire infrastructure in the cloud, and utilizing a small number of physical offices, professional services firms can cut their costs and help increase their revenue. Professional services firms need to adapt to technology changes and should be ready to take major steps in this direction to take on new business challenges and maximize growth.
3. Value-Oriented Revenue Model
Traditionally, professional services firms have been charging their customers on an hourly basis. In line with increasing wages and rapid pressure from clients to decrease pricing, many professional firms are shifting towards value-oriented billing. Value-oriented billing is easy to apply in the professional services industry since the value (such as tax savings, damage awards, ad placements, or the size of an acquisition or merger) is explicit.
It is expected that more professional services firms will shift to value-based pricing as they try to become "advisors" rather than just being service providers paid by the hour. Professional service firms should shift from hourly rates to value-based pricing. This shift can help professional services firms to increase their revenues and profitability.
4. Emergence of Modularization
Services are now being split into several individual components and sold separately rather than bundled together. A growing number of clients prefer to pick and choose service elements that can be executed in house and allocate the rest to specific service providers. This approach is called modularization of services. Modularization is particularly appealing when a single service firm would not be able to handle the complexity of a large project and hence is willing to approach four to five firms to collaborate together.
Alternatively, the client may want to break down the project into various small components that can be allocated to specialized professional firms. Going forward, the strategy for professional services firms should be to develop specializations to enable them to cater to this trend. These professional firms should also be looking for opportunities to collaborate with other professional services providers to work on a single project.
5. Automation of Back-End Services
Back-end services automation is increasingly becoming important for companies to eliminate paper-driven processes. Professional service companies such as accounting and legal services are automating back-end processes to match front-end services. Companies are increasingly shifting to electronic check records from old processes of scanning and filing paper checks.
Automation enables companies to reduce operational costs and time to service customer requests. For instance, according to a report by McKinsey, a leading bank automated about 900 of its back-end operations to relieve about 50% of its full-time employees from their back-end tasks.
On the other hand, automation also adds to the overall growth of information technology market which is forecast to reach 1.2 trillion by 2020. Professional services companies should consider automating their back-end operations to reduce their operational costs and customer requests service time.
To sum all points above, the professional services industry is changing rapidly, and in order to stay up-to-date, firms in this industry should focus on engaging social media for communicating with their clients and growing brand awareness, create and engage virtual teams for cutting company costs, change the working model to the value-oriented revenue model, implement modularization to provide services to a wide range of businesses, and automate all back-end services to eliminate paper-driven processes.
Where to Learn More
Read Professional Services Market Global Summary 2022 from The Business Research Company for information on the following:
Market characteristics
Market size and growth
Drivers and restraints
Market segmentation
Competitive landscape
Regional breakdowns
Trends and strategies
Interested to know more? Here is a full scope of professional services market reports to explore:
---
About the Author: Ramesh has 5 years of experience in market research and consulting. Prior to joining the company, he worked with Kantar Operations, Hindustan Coca-Cola Beverages Pvt Ltd, and LeadCap Knowledge Solutions. During this time, he was involved in market research and consulting projects for Coca-Cola, McDonalds, EY, and Vodafone.
---
Related Articles