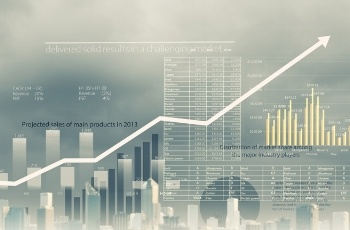 Growing industries offer exciting opportunities for both start-ups and large multinational corporations alike. By gaining traction in up-and-coming industries, corporations can outmaneuver their competitors and deliver huge profits. However, not all the new industries that are hyped in the media will fulfill investor's expectations, and sometimes the fastest growing industries come as a surprise to many.
Several analysts provided insights about a variety of industries on the rise in 2018 and beyond. See their market predictions and analysis below.
---
1. Decline in Battery Prices Supports Electric Vehicle and Energy Storage Markets
Since 2010, there has been a decline of more than 70% in lithium battery prices. The reduction in battery costs is driven by the improvements in battery technologies, economies of scale, competition, and other factors. This downward trend is expected to continue and stabilize on reaching the maximization of reduction in costs from economies of scale and improvements in technology.
In the next few years, many low-cost battery production facilities are expected to come online in China, which will further help in driving prices down. By 2020, prices are expected to hover around 150 to 160 USD/kWh from the current 250-280 USD/kWh.
The above trend will reduce electric vehicle costs and pave the pathway for a transition from IC engine vehicles to electric vehicles. In addition to this, policy support and changes in consumer behavior are expected to accelerate adoption. However, widespread adoption of electric vehicles is expected to commence once the parity is reached in terms of both price and features.
The decline in battery prices is making battery storage more commercially viable. This will to lead to growing integration of renewables with storage options which will transform the electricity market structure.
— Rajashekar Lokam, Senior Research Analyst, Mordor Intelligence
---
2. Plant-Based Proteins Offer Replacement for Meat
The growing concern for heart and cholesterol issues globally led to a cut in the intake of burgers due to high fat and carbohydrate contents. With changing consumer preferences and increasing health consciousness, companies are focusing on high technology research and innovation for new product development.
One such attempt in meat replacement is the launch of vegan burgers which provide necessary nutrition through plant-based ingredients such as pea proteins and soy proteins. Impossible Foods and Beyond Burgers are a few of those companies that have specialized in the plant-based protein burger, without compromising on the sensory attributes.
The pea protein burger that tastes similar to red meat is the right move by companies to gain competitive advantage over existing players. Key players tend to incorporate coconut oil and potato protein in burgers to attain the firm texture of meat. However, their taste and texture are very much different from meat, which is challenging for these companies.
— Saujanya Suman, Industry Analyst, Mordor Intelligence
---
3. Security and Safety to Spearhead Smart Home Evolution
With more than 25 million smart homes in the entirety of United States in 2017, the connected homes market is expected to witness substantial growth over the next five years, across the globe. Research has identified the five key segments that are redefining consumer interest toward integrated connected devices and eventually the smart home concept.
Security and safety have emerged as the most prominent factors, which have prompted consumers to opt for connected devices within the residential sector. Smoke detectors, remote video surveillance systems, and connected locks are among the most frequently purchased connected devices being integrated within smart homes. However, the potential threat of infiltration within the home ecosystem has limited their adoption in developing markets.
Security is the most important aspect that influences consumer preferences in the smart homes industry, and this leads to security emerging as a paradox for home automation vendors. Innovation and research in the field are expected to be directed toward safeguarding the sanctity of content, which is controlled by these devices, as consumers are subject to massive resource and monetary losses in case of unauthorized access.
— Ashish Gautam, Project Lead, Mordor Intelligence
---
4. Hydroponics: The Next-Generation Farming Approach
Changing climates and weather patterns, little-to-no green space in urban areas along with mass drought and poor food security in developed countries like the USA as well as in developing nations are some serious emerging problems. As farmers are striving to feed the world with limited natural resources, it is technology that seems to be the "savior of last resort."
One of the latest trending additions to the list of technological innovations in agriculture is definitely hydroponics and aquaponics systems that have been gaining momentum and immense popularity in recent years. From growing plants in tents under lights to sourcing the nutrients from fish excreta, new-age start-ups are disrupting agriculture as these newer technology trends emerge.
There are various types of hydroponic systems, but they all essentially work by pumping just the appropriate quantity of nutrients and water directly to the roots of the plants. Hydroponic crop production offers visible improvement in quantity and yields, savings on agrochemicals, and enhanced productivity methods of growth.
Controlled environments with optimized conditions and less water waste make it an ideal solution for drought-borne areas. As the industry evolves and new techniques are being developed, hydroponic farming will be seen as an optimal choice to sustain a large proportion of the world's population and to allow third world countries to feed their own people.
— Jaison Davis, Lead Analyst, Mordor Intelligence
---
5. mHealth Apps Help Transform the Future of Healthcare
Over the last few years, information technology has successfully penetrated the healthcare sphere. In this era of wireless medicine, developing focused apps to cater to physicians and patients is the need of the hour. Recently, Lifescan's One Touch Verio Flex blood glucose meter now enables the patient to share data with the physician for informed care with the help of Qualcomm life's medical grade 2net solution.
Patients and providers are using different mobile health technology that includes mobile health apps, patient portals, and telemedicine for improving the medical care of patients and administrative tasks. Mobile health is part of "e-health," which uses technology such as computers and mobile apps for patient monitoring. Currently, there are over 59,000 mHealth apps that are creating new possibilities for physicians and patients for the managing and tracking of health information.
The major driving force for the mHealth app market is the fast adoption of smartphones in the healthcare industry. This would not be possible without the advanced 3G and 4G networks, progressive connectivity technologies, and solutions available in the market. The common health mobile apps are medical apps, healthcare and fitness apps, women's health apps, medication management apps, and personal health record apps. Certain examples of mHealth apps are Weight Watchers Mobile, Lose It!, and First Aid.
mHealth is the natural evolution of healthcare as it is creating new opportunities from which many patient's interactions will be conducted in the future. So, through the integration of mHealth, the physician can access the health of the patient and can improve it from a virtual location.
— Mitali Verma, Research Associate, Mordor Intelligence
---
About the Publisher: Mordor Intelligence is a global market research and consulting firm that produces comprehensive reports across 60+ industry segments. The firm is trusted by 300+ brands across the world. Reports by Mordor Intelligence are available on MarketResearch.com.