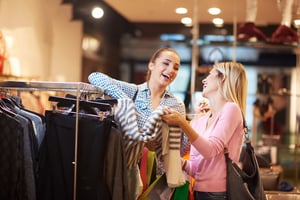 What does the future hold for the apparel industry in 2021 and 2022?
After "one of the most challenging years for the fashion industry on record," McKinsey & Company's report The State of Fashion 2021 expects tough conditions to persist with "high levels of bankruptcies, store closures, and job cuts."
In contrast, the market research firm IBISWorld takes a milder stance in its report Global Apparel Manufacturing, which predicts that continually improving economic conditions, rising disposable incomes, and population growth will boost the industry from 2021 to 2026.
Although market forecasts are somewhat mixed, several noteworthy apparel industry trends are highlighted in these apparel industry reports and others like them.
1. The Role of Digitalization
Digitalization in the fashion industry was already a top trend prior to the pandemic (with the popularity of e-commerce companies like Rent the Runway, thredUP, and ThirdLove as prime examples), but the rise of digital channels is expected to become a permanent shift going forward due to the impact of the pandemic.
As the marketplace evolves, both legacy and emerging fashion brands must increase their online presence and use big data and analytics to offer more personalized solutions and capture a bigger share of the market. The widespread use of livestreaming and customer service video chat are just a couple of ways companies are adopting to a more digital world.
2. The Importance of Sustainability and Social Justice
Along with digitalization, another key apparel industry trend is sustainability. More consumers are concerned about the future of the planet and are putting pressure on fashion brands that do not have eco-friendly practices.
As a result, some companies are working to modify their business models and develop products made with more sustainable materials, according to Textile Intelligence. For example, Adidas turns plastic trash that washes up in coastal areas into recycled polyester and uses the material in shoes and clothing. To decrease its environmental impact, Chanel invested in the startup Evolved by Nature, which works to replace synthetic additives with alternatives that are more environmentally friendly.
Buying secondhand, or renting rather than buying new, have become other popular ways for consumers to keep items out of landfills and afford more high-end luxury brands. As a result, rental and resale companies are expanding at a rapid pace.
In addition to concerns over climate change and the health of the planet, consumers are also more aware of exploitative working conditions in factories and are demanding living wages and safe working conditions. Allegations of serious human rights abuses in Xinjiang, China—which accounts for an estimated 85% of China's raw cotton production—created challenges for major brands and a huge backlash for H&M after the company voiced concerns about the treatment of ethnoreligious minorities.
3. Continued Growth in Athleisure
Another clear trend from the pandemic was a boom in athleisure as consumers swapped business casual and professional garb for yoga pants and T-shirts. Lululemon, Athleta, Calvin Klein, Tommy Hilfiger, and Dick's Sporting Goods all reported strong sales for athleisure attire.
However, retail chains that offer suits and more formal apparel struggled. Brooks Brothers, Neiman Marcus, J. Crew, and Men's Warehouse all filed for bankruptcy during the pandemic.
However, the athleisure trend is by no means new. The growing popularity of wellness gave yoga-inspired clothing unique staying power, and the trend had already "defied gravity" for years.
Looking ahead, the global athleisure market is expected to grow by $153.02 billion during 2021-2025, increasing at a compound annual growth rate of more than 7 percent, according to a recent report by Technavio.
4. A Shift Toward Size-inclusive Fashion
Rising levels of obesity around the world have spurred the demand for on-trend, plus-size fashion, as outlined in the report From Plus-Size to Size-Inclusive Fashion.
In the past, plus-size clothing options have been sparse at many retailers and often relegated to their own separate sections next to maternity wear. Now that is beginning to change as size-inclusive initiatives become more widespread. Nordstrom, Target, and others have expanded their sizes in stores, but most luxury brands have not made similar moves to normalize double-digit sizing.
Access More Information
To get more detailed data and analysis beyond the headlines, explore our vast collection of apparel industry reports from leading market research firms like Euromonitor, GlobalData, IBISWorld, and Textile Intelligence. These reports provide market data and forecasts, competitive intelligence, and strategic analysis to help companies compete and win in today's shifting business environment.
---
About the Author: Sarah Schmidt is a Managing Editor at MarketResearch.com, a leading provider of global market intelligence products and services.