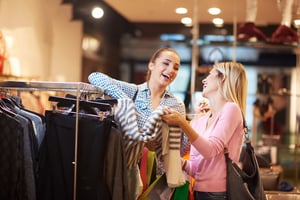 The apparel industry has gone through a significant transformation in the past few years, with the advent of new technologies, changing consumer preferences, and the impact of the COVID-19 pandemic.
The coming year will present unique challenges and opportunities for the apparel industry as brands navigate an uncertain economic climate and a shifting market landscape.
For a closer look at this dynamic market, this article explores the top trends that are shaping the apparel industry in 2023 and 2024, based on the latest market research reports from a variety of leading firms.
1. New Economic Headwinds
The apparel industry struggled through the challenges of the COVID-19 pandemic—when retail traffic dropped and supply chains were disrupted. Now, the industry faces the constraints of inflation, the impact of geopolitical tensions, and weakened consumer demand, according to The State of Fashion 2023 by McKinsey & Company. To succeed in this economic climate, brands will need to be agile and get creative to stand out through their marketing, product development, and choice of sales channels.
2. Increased Focus on Sustainability
Sustainability has also become a major concern for consumers and businesses alike, and the apparel industry is no exception. Consumers are becoming more conscious of their impact on the environment and are demanding clothing made from sustainable materials and produced in an environmentally responsible way. Brands are responding by incorporating sustainable materials into their products, reducing their carbon footprint, and implementing environmentally friendly manufacturing processes.
For example, Patagonia, a long-time leader in sustainability, is working to become completely climate neutral by 2025. A number of other fashion brands including Allbirds, Reformation, and Vuori are already certified carbon neutral.
However, obstacles remain for the industry as a whole. "While consumers are increasingly vocal about their desire for more sustainable apparel, their actions remain constrained by costs," according to the report Sustainability in the Apparel Industry – Analyzing Trends, Opportunities, and Strategies for Success by the market research firm GlobalData.
In addition, waste is another major problem, with the vast majority of textiles ending up in landfills, but most apparel brands are not yet willing to decrease the number of products they manufacture and sell to support a more circular business model.
3. Popularity of Direct-to-Consumer Business Models
Direct-to-consumer (DTC) is becoming a key feature of the apparel industry, as consumers look for more personalized and convenient shopping experiences. Brands are bypassing traditional retail channels and selling their products directly to consumers through their own online stores and showcasing their products on social media platforms such as Instagram and TikTok.
DTC e-commerce is a wider trend impacting a variety of retail categories. "DTC as a business model was popularized by Dollar Shave Club," explains GlobalData's report Direct-to-Consumer in Apparel – Thematic Research. "DTC gives retailers greater control over their operations." DTC not only offers a more personalized shopping experience but also allows brands to closely manage their brand image and gain valuable data on their customers.
Analysts at McKinsey caution that while DTC business models offer key benefits and are often a priority for many brands, using diverse sales channels can help companies maintain efficiency, stay relevant, and achieve growth over time.
4. Rapid Digital Transformation
The apparel industry has embraced digital transformation, using technology to streamline operations, improve customer experiences, and better understand their customers. Brands are using data analytics to gain insights into consumer preferences and buying habits, and they are incorporating these insights into their product development and marketing strategies. The use of artificial intelligence, machine learning, and automation is also helping brands to improve their supply chain operations and reduce waste.
COVID-19 helped to accelerate the role of digitalization in countries like China, where virtual spokespeople, online fashion shows, and livestreaming became increasingly widespread. Digitalization also helped apparel companies remain operational in the face of lockdowns and worker shortages.
"After the COVID-19 disruptions and strict lockdowns China underwent in spring 2022, manufacturers, retailers, and brands are all very aware of the importance of being agile," according to the report Digital Transformation in Fashion: Lessons from China by Euromonitor International. "This has led to investment in AI and other technologies to help with omnichannel fulfilment, pricing, real-time stock management, and even on-demand production."
5. The Ongoing Appeal of Athleisure
Athleisure, a term used to describe clothing that is suitable for both athletic and leisure activities, is another major long-standing trend in the apparel industry. Consumers are looking for comfortable, versatile clothing that can be worn in multiple settings, and athleisure provides just that. Brands are responding by offering a wide range of athleisure products, from yoga pants to hoodies, to meet the demands of this growing market.
"Rising health and self-consciousness, a desire to lead active lifestyles and to appear fit, is encouraging consumers to incorporate sports and fitness activities into their daily routine," according to the report Global Athleisure Market – Growth, Trends, COVID-19 Impact, and Forecasts by Mordor Intelligence. "This increased participation has led to a change in market dynamics, leading to an increased demand for athleisure products."
Athleisure in itself is a huge global market, valued at $248.31 billion in 2020, and is expected to grow at a compound annual growth rate (CAGR) of 6.54% from 2021 to 2026.
Access More Information
To get more detailed data and analysis beyond the headlines, explore our vast collection of apparel industry reports from leading market research firms like Euromonitor, GlobalData, IBISWorld, and Textile Intelligence. These reports provide market data and forecasts, competitive intelligence, and strategic analysis to help companies compete and win in today's shifting business environment.
---
About the Author: Sarah Schmidt is a Managing Editor at MarketResearch.com, a leading provider of global market intelligence products and services.