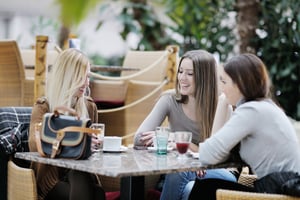 The COVID-19 pandemic took a heavy toll on the restaurant industry. The National Restaurant Association called 2020 the most challenging year for the industry in its history. More than 110,000 eating and drinking establishments closed in the U.S. last year, and 2.5 million restaurant industry jobs were wiped out.
However, the devastating downturn experienced in 2020 and 2021 is anticipated to be short-term. Global foodservice revenues are projected to rise 3.7% per year to reach $4.4 trillion by 2024, according to forecasts from The Freedonia Group, a leading market research firm and division of MarketResearch.com.
1. Global Foodservice Market Primed for Growth
Freedonia identified a range of factors that will boost long-term restaurant market growth:
Continued adoption of advanced technologies to streamline operations, enhance customer experiences, and increase sales
Rising popularity of online food delivery and the expansion of delivery networks, including cloud kitchens (also known as ghost kitchens or virtual kitchens)
Healthy and sustainable eating trends driving higher-value sales in mature markets
Strong investment in the global expansion of multinational chains
Growing incomes in developing markets widening the local consumer base for restaurants
2. A Burst of Digital Adoption and Tech Innovation
Due to COVID, old analog systems had to be quickly transformed as restaurants pivoted to online, contactless ordering. The intense challenges of the pandemic and the cutthroat competition within the foodservice industry will continue to accelerate innovation and force restaurants to rely more on digital technology.
A common way to leverage technology is through the use of proprietary mobile apps that help brands to offer personalized incentives and foster repeat business. Foodservice brands are also expected to invest in automated and robotic technologies such as self-service kiosks, cashierless technologies, and restaurant robots to improve efficiency.
Burger King and McDonald's employ a range of technologies including data analytics, geofencing, and mobile apps to improve customer experiences, reduce labor costs, and optimize upsells.
3. Ethical Considerations and Sustainability Remain Key
Technology is not the only way restaurants can boost revenues. Offering higher-quality menu items and ethically sourced ingredients is another popular strategy.
Particularly in mature markets, consumers are increasingly looking for foodservice options that minimize environmental impacts and align with their healthy eating lifestyles. The rising influence of generation Z and millennial consumers is also expected to reinforce the importance of corporate social responsibility and sustainability.
As a result, more and more brands are focusing on:
Healthy, high-quality menu items
Diet-friendly options such as keto, vegan, or vegetarian
Responsibly sourced and certified ingredients, including non-GMO and plant-based
Sustainable business practices to reduce waste
Chipotle, Panera Bread, and Starbucks are all examples of this trend; their menus emphasize high ingredient quality through ethical sourcing such as cage-free, pasture-raised, and antibiotic-free livestock. Subway also centers its branding on health and wellness with the "Eat Fresh" tagline.
Where to Learn More
Need more restaurant industry statistics and analysis for 2020, 2021, and beyond? Read The Freedonia Group's in-depth report Global Foodservice with COVID-19 Market Impact Analysis, which covers full-service restaurants, quick-service and fast-casual restaurants, other eating and drinking places (such as bakeries, bars/pubs, coffee shops, and sandwich shops and cafes), and other foodservice establishments (such as airline foodservice, catering services, and hotel foodservice).
If you're looking for a report with a different scope or focus area, search MarketResearch.com's vast collection of restaurants market research from leading research firms.
---
About the author: Sarah Schmidt is a Managing Editor at MarketResearch.com, a leading provider of global market intelligence products and services.