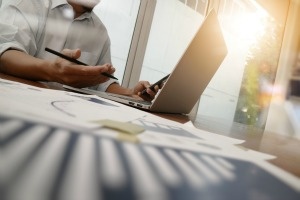 What is business intelligence, and why is it so important now, given our current market environment? To explore this topic more deeply, we asked thought leaders, executives, and consultants to share their insights. These industry experts touch on a variety of compelling benefits that stretch across different business functions — from marketing to sales to customer service. Here are ten ways business intelligence can enhance your organization and help decision makers make more informed, effective choices.
1. Determine the ROI of your marketing strategy.
"In a market saturated with apps, social media platforms, analytics tools, and pay-per-click campaigns, business intelligence is crucial in helping small businesses figure out if the marketing strategy they've invested in is producing ROI (return on investment). Business intelligence can translate into analytics reports where businesses can base decisions on solid research, data, and facts, rather than intuition, assumption, or gut instinct. How do you know something is working? Reports can tell you a much bigger story than you could imagine."
— Vicky Llerena, CEO of Social Vibes Media
2. Derive knowledge from a sea of data.
"Business intelligence today is more important than ever. Ninety percent of the data that exists today the world over was created in the last two years alone. Going forward, the rate of data creation is only going to accelerate. The chief reason for that is the explosion of social media channels and the burgeoning number of users disseminating data at breakneck speeds. What's the point of all that sea of data without an iota of insightful information? Businesses are finding it a conundrum to decipher meaningful insights out of it all. This is where business intelligence can chip in. It brings a method to the madness of all that petabytes of data floating around. It is the art of deriving knowledge from all the business processes to help enterprises gain a head start to better understand customer needs and market dynamics. Improving performance, delivering on customer promises, and building long-term customer relationships are some of the benefits of BI."
— Someshwar Chidurala, Digital Marketing Analyst, Orchestrate Technologies, LLC
3. Understand what drives revenue for your business.
"While business intelligence can be a very broad term, to me it is knowing exactly what is going to drive revenue for your business. To know that is to know who your end user is, what influences their decisions, and how they consume their information. In today's marketplace, there are thousands of outlets pushing information, and not everyone can consume everything. Business intelligence is knowing where and how (media outlets and through articles, videos, ads, podcast, etc.) your ideal customer consumes their information, what is going to drive them to purchase and subscribe, and executing a plan to take advantage of that knowledge."
— Zachary Reed, Manager, Marketing and Communication, Triumph Bancorp
4. Personalize your sales strategy and anticipate objections.
"Business intelligence is understanding more about the other business you are trying to work with in any capacity. Generally, sales teams research this information to be prepared for objections specific to a company's situation. It's particularly useful to know if the company you are trying to sell to is cutting budgets, having an increased personnel turnover, showing decreased sales numbers, about to merge, or outsourcing with competitors at lower prices. Outside of in-depth business intelligence, there are many other things to look for in a company to evaluate its health. This research will be easier if the company is publicly traded, if not, you're up to your own devices.
If you're part of a sales team, it's a very good idea to do business research to personalize a sales strategy, not only will you be more prepared for their objections, but you will appear more genuine in understanding the obstacles this company will have to overcome to move forward with the sale.
Your sales team should have a long checklist of things to look for, to see if a company is a good candidate for a sale. The more things on the checklist that match up, the more ammunition you have from your business intelligence you can use to help them understand how great of a candidate they are."
— Curtis Boyd, CEO/Founder, Future Solutions Media
5. Avoid bottlenecks and problems in a fragile market.
"Business intelligence is critical to both executives and owners equally as it provides insights into the true health of an organization that are not readily available from a profit and loss statement. There are a plethora of BI applications available on the market today that integrate with your accounting software. The key is to understand which is best for your type of business as each has its own pros/cons and features. Business intelligence is not just about tracking KPIs (key performance indicators) once a month or quarter. BI includes forecasting to avoid bottlenecks and provide perfect timing for decision making such as purchasing or new hires. An easy-to-read dashboard that is reviewed weekly will help you be more informed and avoid problems in a very fragile market."
— Rick Armstrong, CPA and Founder, QB Pro Consulting, Inc.
6. Create a more effective business model.
"I just introduced business intelligence to the company where I currently work, and it has helped us turn a growing business model with close to $10 million in annual sales on its head. I drew up a different business model based on the BI I used from the company's own data that they simply couldn't find and properly read.

Why is BI more important than ever? In one word: oversaturation. The internet and the continued growth of e-commerce have saturated every market. You want clothing, furniture, even food? There are dozens of options around the block or just a click away. For business owners, this means making smart decisions and trying to know where to put your marketing dollars and where to invest in infrastructure. Business intelligence lets you do that, and without it, you're simply fumbling around for the light switch in the dark."
— Jeremy Levi, Director of Marketing, MarsWellness.com
7. Get a single, consolidated view of your customers.
"Business intelligence is having access to all your business data, regardless of platform, in a singular, unified dashboard. This can include customer data from your CRM system, email marketing, and website engagements tracked in your data management platform, customer interactions on user chat tools like Intercom.io — all aggregated into a single holistic view of the customer and their interactions with your business.
This is extremely important now as customers are interacting with a business across a multitude of platforms and channels, including their website, social channels, live chat tools, email, and also purchasing products both offline and online. Without a single consolidated view of the customer, it would be difficult to know how to best address them, or meet their needs.
Due to this platform fragmentation, business intelligence is not just important — it is a must."
— Garrett Gan, Co-Founder & CEO, Thalamus, Inc
8. Track your inventory and capitalize on trends.
"Business intelligence or analytics has become critical in retail given the fast pace at which consumers expect orders to be delivered to their doorsteps (the Amazon effect). Retailers and brands need to know where their inventory is located and how well it's selling. Analytics provides this insight to buyers and executives so they can capitalize on buying trends."
— Kay Rindels, Marketing, SPS Commerce
9. Build your brand in a competitive, complex retail environment.
"In the context of consumer packaged goods (CPG) marketing, good business intelligence is the data that enables marketers to plan and react faster, and more efficiently, throughout the decision-making process. This data allows insights professionals to find creative ways of growing the business through initiatives like cross-promotion strategies with complementing product categories.
Up until the early 1990s, all brands and retailers had to worry about were physical brick-and-mortar stores or catalog sales where the orders were placed by snail mail or telephone. With the advent of the internet and the emergence of numerous retail formats such as club warehouses (e.g., Costco) and dollar stores (e.g., Family Dollar) the retail landscape has evolved to include many more species of channels — each competing for a greater 'share of wallet' from their own 'shopographical' niche.
In this brave new world, only those brands with the best measurements will be able to gain insight into human behavior that truly helps them build their brands."
— C.J. Acosta, Marketing Manager, InfoScout
10. Discover the big-picture "why" and what motivates consumer behavior.
"The numbers that drive business intelligence as it stands today don't tell a complete story. That's because the way the executive suite sees the business is not exactly how customers see the business, and social media snippets aren't enough to fill the gap. To truly understand and satisfy customers' needs and correct problems, they must first understand why a phenomenon is happening, rather than go with a gut feeling. Adding qualitative analytics to their dashboard alongside the quantitative data can give them that big picture because it's adding the 'why' to the 'what.' Many think of hard numbers when they're formulating their business intelligence strategy, but those will only tell them what their customers are doing, not what motivates them to do those things"
— Adam Rossow, Partner, iModerate
Additional Resources
To learn more about using data and analysis to guide your organization to success, download MarketResearch.com's free white paper on the importance of market research.
Are you new to our site? MarketResearch.com offers the most comprehensive collection of market intelligence products and services on the web, with industry reports from 720 top advisory and consulting firms. To find out more about our business intelligence solutions, visit our website.
You May Also Like: