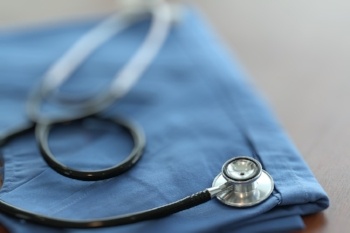 Medical device companies produce a wide variety of products such as wheelchairs, defibrillators, pacemakers, stents, and infusion pumps.
The medical device industry is highly regulated, and companies must invest in constant research and development in order to maintain a competitive edge.
Despite these challenges, medical device companies will benefit from several important market drivers:
An increasing elderly population worldwide
Growth in emerging markets
Higher prices for advanced, innovative devices
Rising revenues and debt reduction at U.S. hospitals
Mergers and acquisitions that enhance efficiencies
The need for non-pharmaceutical methods to avoid drug side effects
Given these factors, growth prospects for medical devices remain strong.
The global medical device market will reach $483.8 billion in 2022, according to Kalorama Information, a leading healthcare market research firm and division of MarketResearch.com.
Bellwether Companies to Watch
Competition among medical device companies is fierce. There are many players in this market, and thousands of companies make medical devices in the U.S. alone.
In the report The Global Market for Medical Devices, 8th Edition, released in October 2017, Kalorama Information provides in-depth profiles of 15 bellwether medical devices companies, with diverse product ranges, strong performance, and significant revenues.
While the report includes much more detail, this blog post offers a brief overview of ten of these companies. Read the full report to access more information on company financials, recent mergers and acquisitions, and comprehensive analysis of the global medical device market.
Medtronic
Company type: Public
Headquarters: Dublin, Ireland
Overview: Medtronic has become the largest medical device company in the world. Medtronic was founded in 1949, incorporated as a Minnesota corporation in 1957, and today serves hospitals, physicians, clinicians, and patients in more than 140 countries worldwide.
Medtronic is active in the diabetes management segment, cardiac rhythm management monitoring technologies, patient monitoring market, and general surgery devices including anesthesia monitoring.
Johnson & Johnson
Company type: Public
Headquarters: New Brunswick, New Jersey
Overview: Johnson and Johnson is a large combination healthcare company with consumer, pharmaceutical, and medical device divisions. It is the second-largest device company in the world, and its device division includes a broad range of products used in the orthopedic, surgery, cardiovascular, diabetes care, and vision care fields.
Johnson & Johnson's medical devices division includes products for joint reconstruction, infection prevention, sports medicine, diabetes, vision, general surgery, biosurgery, wound closure, and minimally invasive technologies.
Siemens Healthineers
Company type: Public
Headquarters: Erlangen, Germany
Overview: Siemens Healthineers is the 17 billion-dollar medical branch of Europe's largest engineering conglomerate Siemens AG, and makes and markets a range of medical equipment to diagnose and treat disease, including imaging systems, radiation therapy equipment, hearing aids, respiratory machines, patient monitoring systems, and consumable laboratory diagnostic tests. The company changed its name from Siemens Healthcare to Siemens Healthineers in 2016.
Siemens is one of the world's largest suppliers of technology to the healthcare industry and a leader in medical imaging and laboratory diagnostics. The company produces CT scanners, MRI systems, and PET/CT technology.
Danaher Corporation
Company type: Public
Headquarters: Washington, DC
Overview: Danaher is a top health and medical technology provider offering products in the areas of life sciences, diagnostics, dental, and environmental and applied solutions. The company employs 81,000 people worldwide with approximately 32,000 based in the United States.
The company's life sciences and diagnostics divisions account for about 62% of company sales combined, comprising sales from several acquired companies including Beckman Coulter, Radiometer, Gentix, Leica Microsystems, Leica Biosystems, AB Sciex, Synbron, KaVO, and most recently, Cepheid.
Royal Philips
Type: Public
Headquarters: Amsterdam, Netherlands
Overview: Royal Philips N.V. is a global provider of consumer products, lighting, and medical equipment and solutions. The company operates on a global scale with more than 450 products and services.
Philips has been involved in the health industry since 1891 with the introduction of the first x-ray tubes for medical applications. Today, Philips is a leader in several health segments and offers products and services to more than 100 countries.
Philips is a global leader in advanced remote patient monitoring. The company offers several patient monitoring solutions to both the professional and home care markets. Philips products lines include fetal monitoring, cardiac monitoring, respiratory and ventilation monitoring, sleep management, remote cardiac services, and remote patient management.
Becton Dickinson & Co. (BD)
Type: Public
Headquarters: Franklin Lakes, New Jersey
Overview: BD is a premier global medical technology company that develops, manufactures and sells medical devices, instrument systems, and reagents. Founded in 1897, BD employs nearly 30,000 associates in more than 50 countries throughout the world. The company serves healthcare institutions, life science researchers, clinical laboratories, the pharmaceutical industry, and the general public. BD has operated in China since 1994 and in India since 1996.
BD's products include needles and syringes, intravenous catheters, safety-engineered and auto-disable devices, pre-fillable drug delivery systems, prefilled IV flush syringes, insulin syringes and pen needles, regional anesthesia needles and trays, surgical blades and scalpels, ophthalmic surgical instruments, and critical care products.
Stryker Corporation
Type: Public
Headquarters: Kalamazoo, Michigan
Overview: Stryker Corporation is a medical equipment firm, which develops and produces medical implants, surgical and imaging technologies, as well as patient handling and emergency medical equipment. The company is worldwide with locations in several states in the United States as well as Switzerland, Singapore, England, Sweden, Spain, Norway, The Netherlands, Italia, Germany, France, Finland, Denmark, Austria, Belgium, China, India, Korea, Argentina, Brazil, Chile, Mexico, Colombia, Japan, and Canada.
Stryker offers a variety of devices for the global orthopedic device market. The company participates in all areas of devices but has a particular strength in intramedullary nail group and hip fixation devices.
GE Healthcare
Type: Public
Headquarters: Buckinghamshire, United Kingdom
Overview: GE Healthcare markets imaging equipment, such as magnetic resonance imaging (MRI), computed tomography (CT), and positron emission tomography (PET) scanners, X-ray, nuclear imaging, digital mammography, and molecular imaging technologies. The company also makes cardiology diagnostic equipment and clinical equipment such as patient monitors and ventilators.
Other products include telemetry systems, critical care monitors, fetal/maternal monitors, vital sign monitoring pulse oximeters, and other systems.
Abbot
Type: Public
Headquarters: Abbot Park, Illinois
Overview: Incorporated in 1900, Abbott focuses on diagnostics, nutritionals, pharmaceuticals, and medical devices. The company currently operates in more than 150 countries worldwide and has more than 94,000 employees. It has been restructuring over the past several years, spinning off its hospital products business, Hospira, in 2004.
Abbott has retained its efforts in personal and professional diabetes care with a portfolio of devices and data management systems.
Boston Scientific
Type: Public
Headquarters: Marlborough, Massachusetts
Overview: Boston Scientific traces its roots back to the 1960s. It started as a medical technology development company and has since grown through additional innovation and acquisitions. Specific areas of focus have included structural heart therapy, endoscopic pulmonary intervention, cardiac rhythm management, peripheral vascular disease, deep brain stimulation, and atrial fibrillation. The company operates in more than 100 countries worldwide and treats roughly 24 million patients each year.
Boston Scientific operates through seven core product segments:
Interventional cardiology
Cardiac rhythm management
Endoscopy
Peripheral interventions
Urology and pelvic health
Neuromodulation
Electrophysiology
Read the Full Report
If you need expert information to inform business strategy, be sure to read Kalorama's medical device industry report, which describes the medical device industry outlook and provides a listing of medical device companies. This report not only profiles 15 bellwether companies, including the ten highlighted here, it also covers many other market participants such as 3M Healthcare, Cardinal Health, Nova Biomedical, and Roche.
In addition, the report explains medical devices market segmentation and regulation in the United States and throughout the world. It also features a variety of helpful charts and graphs to visualize medical device market size and industry growth.
You May Also Like