In our last blog post, we discussed six ways to differentiate your business from the competition, including product, service, distribution, relationship, image/reputation, and price. We noted that some differentiation strategies are more impactful for businesses than others.
To demonstrate how this plays out in practice, let's look at some survey data which will help to identify winning differentiation strategies. Based on our survey analysis, one of these areas of differentiation is more powerful than any of the others — by a huge margin.
Exploring Survey Data to Identify Key Attributes
Priority Metrics Group conducts customer surveys regularly for clients in a variety of B2B businesses. We have compiled a database of survey results with data from hundreds of these studies using a 7-point scale. We looked at the 30 studies with the highest overall average net score. These businesses generated the biggest differential between their perceived performance and that of their best competitor. In other words, they are the most differentiated.
We weighted the net scores for each individual attribute by the importance of each attribute so that we would focus only on those with the largest competitive gap. We extracted the 50 individual attributes across all 30 studies with the highest weighted average net score and then grouped these by category.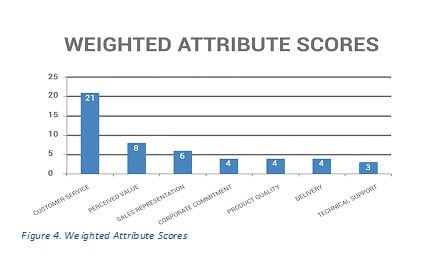 Customer service attributes dominated the final list by almost two to one over all other categories combined. Interestingly, perceived value was the category that appeared second most often. Remember, this is for companies with exceptionally high levels of differentiation that are probably charging a premium price.
The Importance of Personal Service as a Differentiator
Looking at the specific attributes included in the top 50 list, the role of individuals becomes evident. It is not so much the customer service function as it is the customer service representative with important attributes like responsiveness, personal communication, understanding, openness to new ideas, courtesy, and frequency of contact.
This is the secret sauce of a B2B marketing effort. We have found that net scores for products are frequently at parity or even negative when the same business is excelling on personal service. Customers are buying a product that is the same as, or even a bit behind that offered by competitors because the level of personal service is exceptional. A company's associates are the most effective means of differentiation.
These surveys also include price and value as attributes, so personal service carries with it an economic value that can exceed the dollar benefits of an exceptional product. To study that point a bit further, we also looked at those businesses that sell their products at a premium price from Priority Metrics Group's database — companies with lowest net score on price.
All studies used a 7-point scale with scores weighted by importance. We extracted 30 studies from our database with the lowest net score for price or the highest perceived competitive price. We then gathered and categorized the top 50 attributes across all studies focusing on the most important with the largest competitive differential.
Price advantage was supported primarily by customer service. However, product quality also played a critical role for many businesses. These two categories of performance support a price premium and dwarf the impact of other categories by over a two-to-one margin.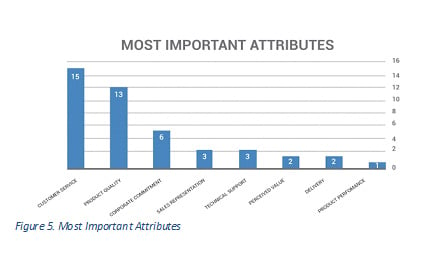 Looking at the specific attributes behind this analysis, product quality is defined as consistency and conformance, runability and performance, and specific parameters such as strength and color match. Customer service is by personal aspects of service such as availability and accessibility, understanding, responsiveness, accuracy of information (something that is often overlooked), speed, and integrity. As in the previous analysis, customer service is composed primarily of attributes defining personal service.
The study concluded that customer service and product quality are the pillars supporting a premium price. And customer service is, again, dominated by personal aspects of service.
Download Our Free Ebook
Download MarketResearch.com's free eBook "How to Succeed Using Market Research" to learn practical strategies that will help you guide your organization on the journey to success.
Editor's Note
This post was written by Priority Metrics Group (PMG), a MarketResearch.com partner in custom research.
About PMG
Priority Metrics Group (PMG) is a professional marketing consulting firm based in Spartanburg, South Carolina. PMG provides customized research, analysis, and consultation services designed to generate profitable growth for clients. They work with leading organizations in a variety of manufacturing and service industries. They are experts at gathering and processing market information, analyzing data, and translating information into actionable growth initiatives.