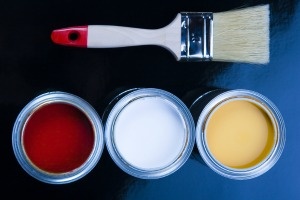 Watching paint dry? That's boring. But knowing that as the paint dries, it's water – not toxic chemicals – evaporating into the air? Now that's exciting.
Water-Based vs. Solvent-Based Coatings
Water-based coatings, which employ water as their liquefying agent rather than chemical solvents, have made huge inroads worldwide over the past few decades. Consumers, professional painters, OEMs, as well as government regulators, have increasingly recognized the advantages of eco-friendly water-based paints, including low volatile organic compound (VOC) emissions, easy cleanup, and low odor.
The switchover to water-based (or "latex") paints has already occurred in the world's architectural coatings industry, as consumers favor latex over solventborne types that emit foul smelling fumes. However, use of waterborne formulations in industrial applications has been slower going, as solvent-based coatings generally offer a number of performance advantages, including lower susceptibility to temperature, humidity, and corrosion.
Improving Formulations for Sustainable Industrial Coatings
Suppliers of chemicals used in paint and coatings are continuously introducing new products to boost the competitiveness of waterborne formulations in industrial end uses. Dow Chemical, for instance, has been a leading developer of coatings based on acrylic emulsion polymers (also known as "binders" or "dispersions") for use in direct-to-metal (DTM) applications — where corrosion, chemical, and temperature resistance is often imperative.
In early 2016, Synthomer introduced a number of dispersion products, including a new Emultex line of vinyl acetate/VEOVA copolymer dispersions for thin-film intumescent (fireproofing) paints, as well as Lipaton styrene-butadiene latex for waterproofing membranes. Coatings for wood products are also increasingly water-based. In May 2016, BASF launched a new high-performance acrylic dispersion (via its Joncryl line) that serves as a low-VOC alternative for furniture and other wood coatings.
As water-based paints increasingly stand up to the performance of their solventborne counterparts, manufacturing capacity for these products is expanding worldwide. In fact, Freedonia analysts predict that the global market for water-based paints used in manufacturing, maintenance, and specialty applications is forecast to climb 6% per year through 2020, compared to just 2.6% for solvent-based formulations.
China's Push for Water-Based Coatings Capacity
China is leading the charge in Asia's rapidly expanding coatings industry. Even as the country's enormous manufacturing sector slows somewhat, its projected growth and China's proximity to other emerging markets continue to attract the attention of top multinational coatings suppliers. New environmental legislation in China — specifically a 2015 tax imposed on manufacturers for products with VOC levels exceeding 420 grams per liter — is also helping to drive the switch to water-based formulations.
Recent expansion projects include PPG Industries' automotive electrocoat facility in Zhangiagang, completed in January 2016, where the company will manufacture waterborne e-coat products that meet China's new regulations. Axalta also increased production of water-based automotive coatings in the country, initiating production in May 2015 at a new plant in Shanghai. Akzo Nobel and BASF are also major players in China's water-based coatings industry.
Find Out More
For more information on major trends in the world coatings and emulsion polymer industries — including comprehensive coverage of historical demand data, forecasts, key market environment factors, and company market share — check out World Paint & Coatings and Global Emulsion Polymers Market, 7th Edition by The Freedonia Group.

---
About the Author: Carolyn Zulandt is an Industry Analyst at The Freedonia Group, where she covers the global plastics & polymers and metals & minerals markets.