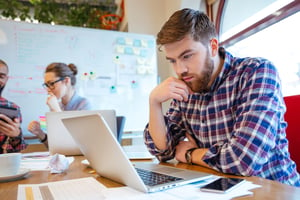 Media literacy is a field that is rapidly gaining traction and is opening up new publishing opportunities for the educational market.
The field currently presents three distinct market opportunities:
Texts and materials for teaching students in secondary and higher education
Professional development materials for teacher training
Texts for faculty at graduate schools of education
Here's a look at why interest in teaching media literacy is rising and what leading states are doing in response.
Why Media Literacy Now?
Interest in media literacy instruction is increasing quickly among a wide range of educational planning stakeholders, including state legislators, school districts, school planning committees, advisory councils, and teachers themselves. Why is this happening now?
Erin McNeill, Executive Director of the Watertown MA based advocacy group Media Literacy Now told Education Market Advisor that: "We're seeing a lot of momentum now with media literacy as we are all seeing the consequences of consuming mis- and disinformation." She added that "lawmakers are recognizing that it is their job to set educational priorities for young people in their states and that media literacy is not 'just one more thing' but is essential today, and so lawmakers need to find a way to provide resources."
The recognition of the importance of media literacy is nothing new – in fact UNESCO established media literacy as a global initiative back in the late 1970s. But today there is an increasingly urgent recognition that young people must be better prepared to distinguish fact from opinion, to identify credible information from misinformation, and to avoid getting triggered by malevolent content online. Forces driving this heightened concern include:
Recognition that the way algorithms and cultural differences are driving the way news and media are consumed has contributed to a politically polarized society detrimental to a working democracy.
The 2020 Facebook whistleblower's Congressional testimony, which exposed how decisions by Facebook were causing harm: Its algorithm was promoting posts containing misinformation, as well as those that incited anger and other negative emotions. The company's Instagram platform contributed to rising mental health problems among young people.
The rise in online misinformation regarding the efficacy of methods for reducing the incidence or severity of Covid-19 including mask wearing and vaccinations.
All of these forces have created a new imperative within the education community: how can media literacy be effectively taught to students so they can be "inoculated" from misinformation, disinformation, and pernicious online information?
Media Literacy Education in the United States
As mentioned above, new forces are creating momentum to accelerate media literacy instruction, but the United States has been a laggard in this field. Countries that are leaders and either require media literacy in their school's curriculum, or made other inroads include Finland, Estonia, and Ukraine. In those countries, the ability to identify misinformation is considered a national security issue. Sweden and Norway are also leaders in media literacy. Canada, with a notable history in teaching media, is another country that for years has emphasized the importance of media literacy in the classroom.
Why is the US lagging behind in this initiative? Several barriers have impeded growth. Foremost among these are:
The US must come to an agreement on educational standards and curricula 50 times, on a state-by-state basis, while other countries have a single federal agency to apply curricula and educational standard changes across the nation.
Very few teachers have the necessary background knowledge to teach media literacy. Hence the need for teacher training, and funding for such training, is a critical preliminary step.
There is no "room" in the daily classroom schedule. Teachers are already overwhelmed trying to fit everything that must be taught – especially, of course, topics that will be measured in standardized tests – into the standard school schedule.
Misunderstandings about what media literacy is: media literacy is not ideological nor political, but the ability to decipher messages and think critically about information.
A wide range of educators play a leading role in creating, teaching, and advising how to teach these skills. Among them are librarians, journalists, secondary and higher education instructors, school media specialists, and media industry professionals.
State Initiatives for Media Literacy
Despite these formidable barriers, certain states have made notable progress in advancing media literacy among their populations. According to the "US Media Literacy Policy Update 2021" report published by Media Literacy Now, the following states are leaders in creating media literacy policy and are ranked by the strength of their actions:
Illinois
Colorado, Florida, Ohio, and Texas
Utah and Washington
California, Connecticut, Massachusetts, Minnesota, New Jersey, New Mexico and Rhode Island
Illinois leads the list because, according to the Policy Update "it is the first state to require that media literacy is taught in the classroom." Other notable state initiatives include those of:
Washington, which passed a bill requiring education leaders to convene a group of experts to identify issues and barriers to introducing media literacy to the classroom
New Mexico, which passed a law that funded teacher professional development in media literacy
Rhode Island, which last summer performed a survey of educators' perspectives on media literacy. (A summary of the survey results is available on the state's Media Education Lab Website.)
Up Next
What has been the response of educational instructional publishers to this movement? Routledge, for one, has been making particular inroads in addressing the need. In next month's issue of Education Market Advisor, we will conclude this feature by examining Routledge's strategy, what other publishers have been doing, identify leading textbooks, and address other larger implications for the industry, including the impact on testing.
Learn More About Education Market Advisor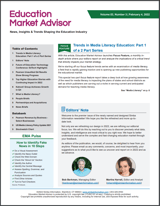 This article is an excerpt from Simba Information's biweekly newsletter Education Market Advisor, a pre-eminent source of business news and analysis for educational publishing and marketing for over 40 years.
Each issue is tightly packed with news and alerts to upcoming adoptions, mergers and acquisitions and tested success strategies for PreK-12 and college markets. Our publication is relied upon by top executives and decision makers at leading companies involved in the business of educational publishing.
---
About the Author: Robert Berkman is Managing Editor of Simba Information. Robert joined Simba Information in January 2022 from the University of Rochester (NY) where he served as the Business Librarian. He is the founder and editor of The Information Advisor's Guide to Internet Research, and author of several books on effective research. Robert is a part-time faculty member at the School of Media Studies at The New School (New York, NY) where he teaches on emerging media technologies and on digital media ethics. He holds an MA in Journalism from the University of Montana.