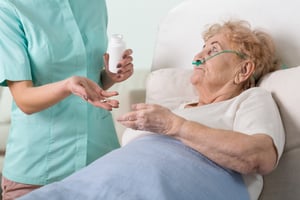 With more than 81 million COVID-19 cases and 1.7 million deaths worldwide as of December 2020, as per the World Health Organization (WHO), the COVID-19 pandemic continues to be an ongoing problem and is expected to have a long-term impact on home healthcare products.
The continued impact of COVID-19 has added to the existing burden in several countries and increased the demand for at-home healthcare services and remote monitoring devices.
However, manufacturers, healthcare providers, and regulators are working collaboratively to develop and implement cost-effective programs to track and monitor a variety of chronic disorders as well as launch patient management solutions, which are designed to encourage patients to adopt home healthcare products on a large scale.
The integration of technology has led to the development of connected homecare devices that record, store, analyze, and share users' healthcare information with other devices such as smartphones, smart hubs, and laptops, through the Internet. The interconnectivity of homecare devices is referred to as the Internet of Medical Things (IoMT), where a combination of medical devices and applications are connected to an information technology (IT) system.
According to the market intelligence published by BIS Research, the global home healthcare market reported revenue of $130.18 billion in 2019 and is projected to cross $214.98 billion by 2025.
The advancement in wearable technology for monitoring novel vital signs, the rise of the Internet of Medical Things (IoMT), the evolution of remote monitoring solutions for the treatment of patients in an economical and efficient way, and the launch of products for a wide range of applications are some of the major factors increasing the growth of the home healthcare market in the coming years.
Factors Influencing the Home Healthcare Market
The global home healthcare market is influenced by several factors, including factors responsible for driving growth and factors that will restrain the market.
Growth Drivers
Factors that are responsible for driving the growth of the market include the rise of healthcare consumerism, growth in adoption of mHealth, advances in wearable technology, remote monitoring enabling anything-as-a-service, connected devices causing a paradigm shift in the MedTech landscape, and an increase in the number of regional startups.
Healthcare consumerism is defined as self-health management by the user through commercially available devices. Due to the sudden rise in healthcare consumerism, the primary care treatment landscape is also undergoing a transformation, and healthcare consumerism is anticipated to grow significantly from 2020 onward.
Healthcare consumerism is further propelled by the increased out-of-pocket costs on the patient's side and high-deductible health plans. In addition, the COVID-19 pandemic has also boosted the growth in demand for at-home healthcare services and remote monitoring devices.
The growing adoption of mHealth is another major factor driving the growth of the global home healthcare market. mHealth is a subsegment of telehealth, wherein the user utilizes cell phone applications and other smartphone capabilities to access or analyze health information, adherence reminders, and lifestyle monitoring. Several factors such as age group, technology education, health literacy, and household income influence the usage of mHealth.
Market Challenges
Apart from the factors that are propelling the growth of the market, some factors are restraining its growth. These restraining factors include lack of insurance coverage for home healthcare services, patient preferences and prejudice hampering adoption rate, and lack of well-defined regulations.
Home healthcare has been on a steady growth rate during 2015-2019, and the services have increasingly become more organized and reliable. However, insurance coverage has not been able to keep up with the pace.
Despite the benefits to insurance providers, there is a lack of insurance coverage for home healthcare services, especially in emerging countries. The lack of insurance coverage is mostly attributed to intrinsic challenges associated with providing healthcare services at home. Home healthcare must fit well into the emerging business models of care providers to attract more insurance companies.
Further, considering the concept is new, it needs slightly more acceptance, especially among developing nations. This is due to the patients' perceptions, including being treated in a professional hospital setup and inclination toward conventional healthcare practices.
The lack of established standards for the quality of healthcare being provided is one of the major challenges restraining the growth of the market. For instance, the devices that are used for non-diagnostic purposes are not regulated, which results in low preference among healthcare service providers.
Global Home Healthcare Market Segmentation
Segmentation by Product
Products that are covered under the home healthcare market include monitoring devices, health maintenance and promotion devices, diagnostic devices, IT and software, and services (including SaaS). These broad categories of products further include several products. For instance, the monitoring devices include vital sign monitoring devices, weight monitoring devices, ECG devices, glucose monitoring devices, oxygen monitoring devices, and sleep monitoring devices.
The health maintenance and promotion devices further include dental connected devices, acoustic and earbuds, location tracker devices, connection hub devices, mental health promotion devices, elderly assistance devices, nutrition management devices, air quality and humidification devices, pain management devices, and other devices.
The monitoring devices segment is expected to register the highest CAGR during the forecast period 2020-2025. However, the revenue generated by the services segment in 2019 accounted for 71.39% of overall market revenue, and it is the highest amongst segments.
Segmentation by Region
The home healthcare market is not widespread globally. However, a significant number of countries have home healthcare setups. These countries include the U.S., China, India, Brazil, Japan, South Korea, Nordic countries, EU5 countries, and Rest-of-the-World.
The revenue generated by the U.S. accounted for the maximum amongst all countries in 2019, and the U.S. is expected to remain in the leading position during the forecast period 2020-2025. The U.S. was followed by Rest-of-the-World, EU5, China, and Japan. Although the revenue contribution of India was not that high, India is still expected to register the highest CAGR during the forecast period 2020-2025.
Major Players in the Global Home Healthcare Market
Apple Inc.
Fitbit, Inc.
Huami Corporation
Omron Corporation
Sonova Holding AG
Alphabet Inc. (parent company of Google, LLC)
Garmin Ltd.
Huawei Technologies Co., Ltd.
ResMed
Withings
Demant (parent company of Oticon)
HK Smartmv Limited (Mobvoi)
Koninklijke Philips N.V.
Samsung Electronics Co., Ltd
Xiaomi Corporation
Academic and Research Institutions Snapshot
Aristotle University of Thessaloniki
University of Pittsburgh
University of Utah College of Pharmacy
University of Florida
Italian Institute of Telemedicine
McMaster University
University of California Irvine
Keio University School of Medicine
Nanjing University of Chinese Medicine
The University of Melbourne
Start-Up Snapshot
Agatsa Software Pvt Ltd.
Hangzhou Bangtang Network Technology Co., Ltd. (Bongmi)
Lumen
VivaLink, Inc.
FitTrack
Kallows Engineering India Pvt. Ltd.
Nutromics
Kinsa, Inc.
Qardio, Inc.
Global Home Healthcare Market Research Report
For more information, visit MarketResearch.com to download a sample of the industry report by BIS Research, which provides critical insights into the market. This comprehensive report draws on research from a mix of primary interviews and secondary research, along with analytical tools that have been used to build the forecast and predictive models.
---
About the Publisher: BIS Research is a global market intelligence, research and advisory company that focuses on emerging technology trends that are likely to disrupt the market. Its team includes industry veterans, experts, and analysts with diverse backgrounds in consulting, investment banking, government, and academia.
---
Related Articles