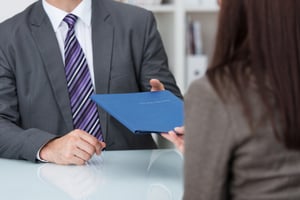 The Coronavirus epidemic of 2020 altered the employment landscape dramatically. Large numbers of outstanding companies were forced to lay off employees due to both a rapid decline in revenues and uncertainty about the future. Hardest hit were the entertainment, retail and travel sectors.
At the same time, some surprising parts of the economy were badly hurt. For example, most healthcare services, from dentists' offices to surgery centers, saw big declines in employment, as many closed their doors, at least temporarily, to non-emergency patients.
According to the U.S. Department of Labor, the largest declines in total employment, from February through September 2020 were found in:
Restaurants and Bars
-2.3 million
Professional and Business Services
-1.4 million
Health Care
-1.0 million
Arts, Entertainment and Recreation
-0.8 million
Hotels and Accommodations
-0.7 million
Retail Trade
-0.5 million
Major Job Market Trends During COVID-19
Meanwhile, some sectors enjoyed soaring growth. Interest rates plummeted, causing a massive jump in business at mortgage companies as homeowners sought to refinance their loans. Home sales, both new homes and vacation homes, soared when people sought comfortable surroundings for their newly established work-from-home routines. Supermarkets and food-delivery services boomed. Cloud computing firms, cybersecurity companies and digital payments firms, such as Square and PayPal, were also dramatically boosted.
One of the most important changes in business and related employment has been the acceleration of long-term trends, in a manner that saw years' worth of business growth occurring over a matter of months. The most noticeable of these trends was a boom in ecommerce of nearly all types. At the same time, however, technology-driven services of many other types were accelerated, from remote telemedicine to remote online education.
At Plunkett Research, we believe that consumer habits will change at least for the mid-term, and in many ways permanently, as a result of this global pandemic. The trend towards shopping via e-commerce means more jobs in website management, logistics, warehousing and delivery services (but fewer jobs in retail stores). On-demand delivery of groceries and meals will remain strong. Companies that provide services that support online education will continue to grow as well.
The travel industry suffered miserably as a result of the Coronavirus, and hotels, cruises and airlines will see structural changes and a long-term reduction in business as a result. Conference centers and sports venues also may see a long-term drop in attendance, as consumers are going to be less interested in being among large crowds.
In-Demand Industries That Will Continue to Hire
Job seekers who want good positions with good pay must be extremely well prepared for the process of seeking a job. A large part of the preparation requires meaningful research into prospective employers and the industries in which they operate. The fact remains that several million Americans consider themselves underemployed, and many of them will be looking for better jobs. Competition for the most desirable positions will remain fierce. Many companies receive hundreds or even thousands of resumes for every job opening. Simply sending in a resume and hoping for the best is nowhere near enough for a successful job search.
The good news is that a select set of employers and growth companies will offer superb job opportunities. Sectors such as cloud computing and ecommerce will continue to grow and hire. A few companies with exciting new technologies or cost-saving services will see terrific growth. Zoom, a highly innovative provider of online video communication services, has been a good example.
Solid companies that do a terrific job of providing the day-to-day needs of consumers and business will continue to hire—Costco and Amazon.com are good examples. Other industry sectors that fall into this category include insurance firms, such as USAA and The Progressive Corporation, along with online services and apps that provide efficient or new ways for consumers and businesses to make purchases, gather data or view entertainment and news.
Growing numbers of consumers prefer to buy from firms that sell goods and services online, offering avoidance of contact with crowds, savings of time, money and car travel. This boosts companies like Amazon.com that offer low prices combined with deep selections and great customer service. Virtually all major retailers, including giants like Wal-Mart and Home Depot, are working hard to provide better online services and choices to their customers. All major supermarkets are enabling online ordering and many offer home delivery.
Job Seeking Tips for 2020 and 2021
Americans who find themselves in the market for a job will need to understand the changes surging through the economy in order to determine which companies to pursue and which to avoid. The U.S. employment market has evolved dramatically, and job seekers must be both knowledgeable and nimble in order to position themselves to find promising careers. There will be excellent opportunities for those who are diligent in seeking top employers in most business sectors.
It is vital for the job seeker to use the best reference tools possible in order to seek out employers that offer a reasonable balance of financial stability, opportunities for advancement and good pay. Excellent job opportunities always exist if you know where to look.
In particular, companies that offer products or services that save time and/or money will prosper—for example, many types of companies that offer services that help businesses operate more efficiently, will be hiring.
Meanwhile, large companies that are not increasing their overall numbers of employees will nonetheless be hiring on a regular basis due to normal attrition—that is, the loss of employees due to retirement, relocation or other personal circumstances. Massive companies like Walgreen's or Kroger typically need to hire tens of thousands of workers yearly due to normal attrition.
At the same time, hiring will be boosted by the numbers of Americans who are turning retirement age and either quitting work or reducing their hours through part-time work.
Discover Top Employers for 2021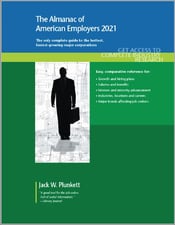 This article is an excerpt from a newly published report The Almanac of American Employers 2021: Market Research, Statistics and Trends Pertaining to the Leading Corporate Employers in America by Plunkett Research, Ltd.
This report is an easy-to-use solution to what would otherwise be a complicated problem: How can you tell, among America's giant companies, which firms are most likely to be hiring? Among those firms, which are the best to work for?
No other source provides such easy-to-understand comparisons of growth, treatment of employees, salaries, benefits, pension plans, profit sharing and many other items of great importance to job seekers.
Visit the report page using the link above to learn more and purchase a copy today.
---
About Plunkett Research, Ltd
Plunkett Research, Ltd. is a leading publisher of business and industry research, with a global client list of top corporations, consultancies, investment firms, universities and government agencies. Our core focus on is on the analysis of industry trends, industry benchmarks, technologies and opportunities. This allows us to leverage our research methodology to deliver accurate, timely information that our clients need to develop business strategies, determine market scope and consider investment opportunities
Additional Articles