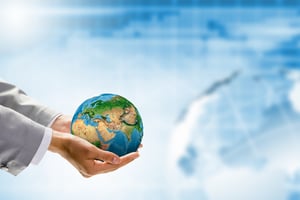 Modern automobile powertrain technology is transforming the automotive industry to enable various vehicles, such as connected, autonomous, shared, and electric vehicles.
Bearings play a particularly important role in enhancing the performance of automotives by carrying the load and facilitating the transfer of torque, i.e., minimum friction, in addition to other functions.
Bearings are required for all rotating components of automobile systems to function appropriately, as they improve the performance of automobiles by supporting heavy loads and reducing friction. They may become hazardous if not managed properly, as bearings used in automobiles contain highly toxic chemicals which are a threat to the ecosystem.
Here, we share how electric vehicle bearings can contribute to sustainability and a green environment in the future.
What is the role of bearings in electric vehicles?
Bearings are implemented in various parts of electric vehicles, including internal combustion engines, wheels, and pumps. Along with battery technology, the optimization of EV bearings has been one of the biggest concerns for EV manufacturers. With the improvement of EV motors, the focus placed on the ball bearings within the drivetrain has generated new possibilities.
The automotive industry is focusing on creating third-generation ball bearings, i.e., the fastest deep groove grease-lubricated ball bearing. This new technology in ball-bearing focuses on a higher energy economy and longer EV range facilitating the construction of a smaller motor to provide manufacturers the option to optimize the interior space of the EVs.
This third-generation ultra-high-speed ball bearing is built mainly on anti-seizure and cage advancement technology which brings the ability to withstand high speeds for the new generation of EV motors.
What is the need for EV-bearing recycling?
Over a couple of decades, the automotive industry has witnessed a massive transformation due to rising air pollution, stringent government rules and regulations, and growing demand for electrification in vehicles. As a result, the need for components used in advancing electric vehicles has gradually increased across the globe.
Bearings are primarily used in electric vehicles for supporting axial and radial loads while reducing friction. The need to reduce vehicle weight has created growth in the global electric vehicle bearings market. Original equipment manufacturers (OEMs) of electric vehicles needed a major improvement in the quality and performance of bearings to meet the needs of consumers with dependable EVs.
According to a report by BIS Research, the global electric vehicle bearings market is expected to reach $41.12 billion by 2031 from $2.26 billion in 2021, with a CAGR of 34.1% during the forecast period 2022-2031.
How can EV bearings contribute to the environment?
Numerous environmental problems afflict the world, and natural resources (particularly fossil fuels) are fast depleting. As a result, government organizations, environmental agencies, and automotive manufacturers have worked together to produce mobility solutions that run on alternative fuels, resulting in a cleaner environment.
To improve sustainability, the automobile industry is focusing on the research and manufacture of electric vehicles, hybrids, and other new energy vehicles. Consumers are still concerned about the maximum range on a single charge. EV manufacturers are focusing on producing smaller and lighter automotive components that can be produced with higher output motors with higher efficiency of electric vehicles.
Along with this, they are taking care of customer feedback and environmental concerns. As a result, electric motor and powertrain bearings are being subjected to ever-increasing speeds and performance requirements, keeping sustainability as the prime concern.
How remanufacturing of EV bearings contributes to sustainability goals
Remanufacturing of bearing has been in practice for commercial and industrial applications for over a decade. Bearing rework provides 50%-80% cost benefits depending on the bearing condition and size.
The life of the bearing operates on the number of revolutions performed by the bearing and the magnitude of load. A remanufactured bearing cannot be used in rotation forever, except for the ideal operating conditions where the fatigue load limit is zero. But it is a hypothetical condition and sooner or later material fatigue does occur.
According to International Organization for Standardization (ISO), 220 lbs of reworked or remanufactured bearings will save approximately 770 lbs of CO2 emission which makes a strong sustainability impact and also contributes to cost benefits.
Conclusion
With the day-to-day technological developments taking place in electric vehicles, bearings are being recycled to maintain sustainability goals. Moreover, the worldwide car industry's strategic drive toward green/renewable energy sources for propulsion have been triggered by growing environmental concerns and initiatives around a sustainable lifestyle.
The need for enhanced vehicle efficiency and a durability range has gradually increased the electric vehicle bearings demand.
Learn More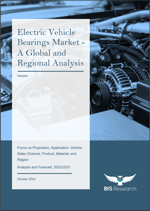 For more information on this fast-growing market, please see Electric Vehicle Bearings Market - Analysis and Forecast, 2022-2031, a detailed report packed with data and insights covering market segmentation, recent market developments, market demand, drivers and challenges, the competitive landscape and key players. This report provides valuable data-driven market intelligence to help companies that are developing strategies for product innovation, sales growth and marketing, and competitive benchmarking and positioning.
---
About the Publisher: BIS Research is a global market intelligence, research and advisory company that focuses on emerging technology trends that are likely to disrupt the market. Its team includes industry veterans, experts, and analysts with diverse backgrounds in consulting, investment banking, government, and academia.