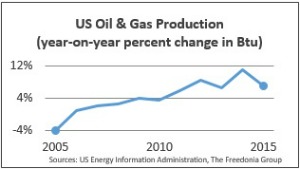 Among the various hose types, demand for fluid power hose stood out as a star performer due to robust growth in US oil and gas production. Over the 2010-2015 period, sales of fluid power hose increased at an impressive average annual rate of 21%, largely attributable to rising sales in the US oil and gas industry. US oil and gas output (in terms of British thermal units) saw average annual gains of 7.6% over the 2010-2015 period, nearly three times the 2.6% average yearly growth from 2005 to 2010.
Fluid power hose is an integral component of fluid power systems, and encompasses hydraulic and pneumatic types. For example, hydraulic hose is typically used in the actuation and control systems of heavy equipment, while pneumatic hose is utilized primarily in functions involving a wide temperature range, such as aircraft engine control.
The strong rise in oil and gas production over the historical period propelled hose sales for use in heavy equipment (eg, bulldozers and backhoes employed to clear land) and production rigs. For instance, production rigs utilize hydraulic systems to power drills, and strenuous operating conditions require frequent hose replacement. Such replacement requirements provided a further boost to demand over the historical period.
Demand for fluid power hose is projected to rise 4.0% per annum to 2020, as US oil and gas production is forecast to slow to a 1.1% yearly growth rate to 2020. Despite the slowdown, the continued expansion expected in oil and gas drilling will support sales of fluid power hose in heavy equipment and drilling rig applications. In addition, suppliers of hydraulic and pneumatic hoses will benefit from increases in machinery production. Growth in aerospace and other transportation equipment output will also support demand for fluid power hose.
To learn more about US hose and belt demand by product and forecasts to 2020, see Hoses & Belts: United States, a report published by the Freedonia Focus Reports division of The Freedonia Group. Total demand, shipments, trade, and the various demand segments are provided in annual series from 2005 to 2015.
---
About the Author: Leon Mengri is an Senior Market Analyst with Freedonia Focus Reports. He conducts research and writes a variety of Focus Reports, which offer concise overviews of market size, product segmentation, business trends, and more.