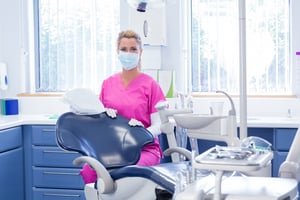 The Business Research Company's dental services market report highlights the largest region that is shaping this industry — North America. The report gives information on the size of the market, along with detailed analysis on this and other fast-growing regions globally. The regions covered in the dental services market report are Asia-Pacific, Western Europe, Eastern Europe, North America, South America, Middle East, and Africa.
North America is the largest region in the global dental services market, accounting for 36.4% of the total in 2021. It is followed by Asia Pacific, Western Europe, and then the other regions. Going forward, the fastest-growing regions in the dental services market will be Africa and the Middle East, where growth will be at CAGRs of 12.9% and 12.4% respectively.
Dental Services Market Growth, Forecast, and Trends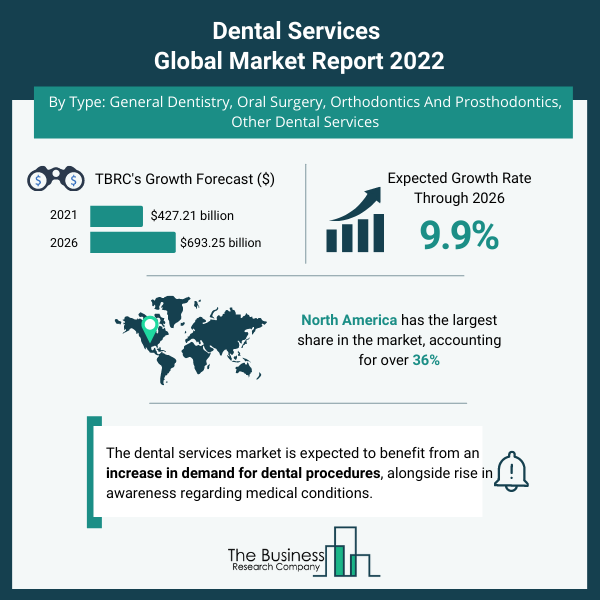 The dental services market consists of sales of dental services and related goods by entities (organizations, sole traders, and partnerships) that provide general dentistry, oral surgeries, and orthodontics and prosthodontic services. This industry comprises establishments of licensed health practitioners having the degree of Doctor of Dental Medicine (D.M.D.), Doctor of Dental Surgery (D.D.S.), or Doctor of Dental Science (D.D.Sc.).
The global dental services market size is expected to grow from $427.21 billion in 2021 to $475.35 billion in 2022 at a compound annual growth rate (CAGR) of 11.3%. Dental services market growth is mainly due to the companies rearranging their operations and recovering from the COVID-19 impact, which had earlier led to restrictive containment measures involving social distancing, remote working, and the closure of commercial activities that resulted in operational challenges. The market is expected to reach $693.25 billion in 2026 at a CAGR of 9.9%.
The US dental services market has the largest share of practicing dentists in the North American region, with 401,892 practitioners in 2020. Growth in the number of practicing dentists in the region will have a positive impact on the dental services market as more people will avail these services.
The dental industry is experiencing a change in its delivery model through dental service organizations or dental support organizations (DSOs), which is giving rise to more corporate or group practices. In April 2021, according to the American Dental Association (ADA), only 43% of dentists participate in the Children's Health Insurance Program (CHIP) or Medicaid for children's dental treatments. A DSO is linked with 63% of these dentists.
Government Initiatives for Dental Health Services
In November 2021, the Canadian government announced a dental benefit program which comes under the Non-Insured Health Benefits (NIHB) program. This program covers a range of dental services, including examinations and radiographs (X-rays). Introducing this program will benefit a large amount of people who had no insurance. By implementing this program, the government estimates a decrease in dental problems in the coming years.
In 2020, the Government of California improved investments in the Medi-Cal Dental Program, a government initiative that covers a variety of dental services for Medi-Cal beneficiaries, such as diagnostic and preventive dental hygiene. Under the proposed state budget for the 2020-21 fiscal year, it expands access to care and improves the oral health of the nearly 13 million Californians served by that important public health program.
Dental Health Statistics for 2020
In 2020, more than 1 in 4 (26%) adults in the U.S. have untreated tooth decay and about 46% of all adults aged 30 years and above showed signs of gum disease, while 9% of adults were affected by severe gum disease.
In 2020, 52% of children aged 6 to 8 years had a cavity in their primary (baby) teeth, 57% of adolescents aged 12 to 19 have a cavity in their permanent teeth, and 90% of adults aged 20 and older have had at least one cavity.
This shows a large need for the provision of dental services, which is expected to reflect in market demand.
Further regional information on key drivers, opportunities, and strategies can be found in The Business Research Company's Dental Services Global Market Report 2022 – Market Size, Trends, And Global Forecast 2022-2026, one of a series of reports from The Business Research Company that provides dental services market overviews, analyzes and forecasts dental services market size, dental services market players, dental services market segments and geographies, the market's leading competitors' revenues, profiles and market shares.
---
About The Business Research Company
The Business Research Company is a market intelligence firm that excels in company, market, and consumer research. Located globally, it has specialist consultants in a wide range of industries including manufacturing, healthcare, financial services, chemicals, and technology. Find the company on LinkedIn, Twitter, Facebook, or YouTube for more.