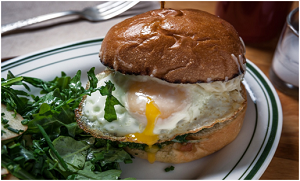 Food industry research has been binging on sandwiches, a culinary form for which the U.S. market is the world's center of gravity, not least because of eager adoption and adaptation of favorite sandwich formats and fillings from around the world.
As reported in Packaged Facts' upcoming, Sandwiches: Market Trends and Opportunities (June 2015), the sandwich is essential to the American diet, with Packaged Facts survey data from April 2015 showing that 79% of U.S. adults having eaten a sandwich in the past seven days.
The restaurant and retail markets for sandwiches
Although most of these sandwiches are made at home, restaurant sandwiches rank a very strong second place, such that the sandwich strides proudly on menus across restaurant sectors. On the high side, Datassential MenuTrends tracking shows that 74% of quick-service restaurants feature sandwiches on the menu. Even on the (relatively) low side, in the fine dining sector, 62% serve sandwiches on their white tablecloths or polished wood. Across the board, sandwiches are more prevalently featured than portable, sandwich-like competition such as burgers, hot dogs, and pizza (which arguably is an open-faced hot sandwich).
Importantly, away-from-home options for snagging a sandwich extend beyond restaurants, cafes, and fast food and into the retail sector: 16% of Packaged Facts survey respondents indicated that they had gotten a sandwich at a supermarket or convenience store within the last week, indicating the broadening reach of made-to-order deli and other foodservice options within food retailing channels.
Leveraging food sourcing and food preparation practices, restaurants and food manufacturers are increasingly focused on providing sandwiches that are fresh, natural, locally sourced, and either culturally or regionally authentic or resonantly creative in culinary concept. This focus dovetails with the two most important consumer drivers in the sandwich market, flavor adventure and authenticity.
Trends shaping sandwich selections
The influence of health trends is evident in the growing use of leaner proteins in sandwiches, including poultry versions of bacon or sausage, and also in a tidal wave of egg whites, a vegetarian option that (current Avian flu supply issues aside) has been the fastest-growing sandwich filling. The National Restaurant Association's What's Hot 2015 Culinary Forecast shows meatless/vegetarian items up 5% from 2014, and the demand for vegetarian and vegan options will continue to mount.
Leafy veggies, in this vein, are getting more play as a sandwich component—sometimes in health-minded ways alongside better-for-you proteins, such as poultry or egg whites, sometimes in indulgent incarnations such as the crowd-pleasing Buckboard Bacon Melt with collard greens at Donald Link's Cochon Butcher in New Orleans.
Bread, once all but overlooked as an avenue for creativity in building a sandwich, is finally getting it's due attention, whether with better-for-you whole grain, multi-grain, or sprouted grain options (as consumers shift away from refined carbohydrates), or with craveably indulgent and chic options such as brioche (a hot trend in sandwiches).
"Breakfast" sandwiches are also being enjoyed all day, a trend celebrated by New York City's The Meatball Shop with its Late Night Breakfast Sandwich--a BEC (bacon-egg-cheese) served on brioche with a side of meatballs, this is not your daddy's breakfast sandwich concept.
For more information on sandwich trends impacting the industry, keep an eye out for Packaged Facts' full report, publishing later this month. For more insights into the Food & Beverage industry, browse all of Packaged Facts reports.
Editor's Note:
Image: Late Night Breakfast Sandwich on Brioche, The Meatball Shop, NYC; Image courtesy of www.themeatballshop.com.
Thanks for reading!
David Sprinkle
Research Director,
MarketResearch.com Publishing
Publisher,
Packaged Facts