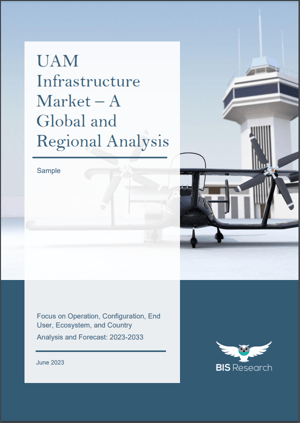 Urban air mobility (UAM) is gaining traction globally as a viable transportation option. It envisions a future where a substantial portion of short-distance flights, traditionally operated by conventional airplanes, would be substituted by hybrid and electric vertical-take-off-and-landing (eVTOL) flight services such as air metro and air taxi.
According to the BIS Research report, the UAM infrastructure market was valued at $81.7 million in 2023, and it is projected to reach $623.6 million by 2033, growing at a CAGR of 20.29% during the forecast period 2023-2033.
Despite the involvement of more than 190 eVTOL manufacturers in developing their own eVTOL platforms, the urban air mobility (UAM) industry still needs the necessary infrastructure for commercial scheduled UAM operations. To address this gap, key players are making significant efforts to enhance the global UAM infrastructure market.
Here are the top five strategic developments aimed at empowering UAM infrastructure.
1. K. Air Mobility Startup's Plans to Establish 200 Vertiports Within Five-Year Period
In April 2022, Urban-Air-port revealed the world's first operational vertiport designed for drones and eVTOLs. The vertiport featured over 100 drone flight demonstrations, leaving spectators in awe of its capabilities. Now, it aims to build 200 vertiports globally within five years. South Korea is likely to be the first country to benefit from this innovative technology.
2. Skyway and Skyportz Join Forces for Urban Air Traffic Management Collaboration
Skyway, a prominent Urban Air Traffic Management (UATM) operation center and navigation provider, disclosed a collaboration with Australian company Skyportz in April 2023. The primary objective of this partnership is to acquire access to various locations suitable for vertiport development and to establish a comprehensive infrastructure for UAM in Australia.
3. Ferrovial and Milligan Collaborate to Establish U.K.'s First Vertiport Locations
Ferrovial's Airports division joined forces with Milligan in June 2023 to discover and develop locations for launching urban air mobility operations in the U.K. The partnership aims to advance Ferrovial's plan of designing, constructing, and operating vertiports in this important market. This collaboration will identify high-demand areas, select potential sites, and assess their suitability for eVTOL operations.
4. Dubai Airshow 2023 to Shine Spotlight on the Lucrative $110 Billion Flying Taxi Market
Dubai Airshow 2023 will showcase the renowned flying taxi market, highlighting the city's commitment to advancing disruptive aerial transportation methods that represent the future of aviation. The event will bring together global industry players and thought leaders from the aerospace, space, and defense sectors. The international aerospace event aims to exhibit cutting-edge solutions, exchange insights, and explore the emerging trends shaping these industries.
5. Terminals Holding and KookieJar Collaborate on Vertiport Projects in Emerging Markets
Terminals Holding, an airport operator and ground handling service provider based in Abu Dhabi, and Kookiejar of Sweden, an advanced air mobility company specializing in vertiports, entered into a memorandum of understanding (MoU) to collaborate on the construction and operation of vertiports in emerging markets, aiming to bring about societal benefits. The MoU was signed on March 7, 2023, during the "The Future of Air Transportation in Mauritania" conference held in Nouakchott.
Conclusion
The unmanned industry is growing rapidly, driven by the growing use of unmanned platforms across diverse applications. This is expected to create opportunities for robust UAM infrastructure development, particularly in the U.S., Japan, Australia, and Germany.
Learn More
For more information on this fast-growing market, please see UAM Infrastructure Market - A Global and Regional Analysis, a detailed report packed with data and insights covering urban air mobility infrastructure market segmentation, recent market developments, market demand, drivers and challenges, the competitive landscape, and key players. This report draws on extensive primary and secondary research to help industry players design the right business strategies for this competitive, ever-shifting market.
---
About the Publisher: BIS Research is a global market intelligence, research and advisory company that focuses on emerging technology trends that are likely to disrupt the market. Its team includes industry veterans, experts, and analysts with diverse backgrounds in consulting, investment banking, government, and academia.