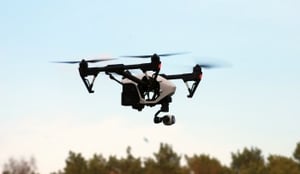 The unmanned aircraft system (UAS) traffic management market is expected to grow at a significant CAGR of 17.13% on the basis of value during the forecast period 2021-2031, according to recent market intelligence published by BIS Research.
North America and Europe are the two major regions in the UAS traffic management (UTM) system market that have carried out trials and demonstrations of UTM capabilities.
What Is UAS Traffic Management?
UAS traffic management (UTM) is defined as a system comprising several subsystems that will function collectively to provide an end-to-end service to end users. The system will be associated with different data providers to gather real-time information on weather, airspace traffic, drone registration, and credentials of drone operators, among others.
The UTM system architecture as proposed by the FAA comprises all infrastructure, policies, procedures, services, and personnel that will support operations for Unmanned Aerial Systems (UAS) operating in the low altitude airspace. It is a community-based, cooperative traffic management system, wherein operators and entities providing operation support services hold the responsibility for coordinating, executing, and managing operations, with the rules established by the FAA.
A UTM consists of a set of services and an all-inclusive framework for managing multiple UAS operations. The services are separate but complementary to ATC separation services and mainly work on the basis of information sharing between operators on flight intent and airspace constraints. These services are essential because they help to establish safe and secure UTM operations, flight operations planning, communications, separation management, and weather information.
Factors Influencing UTM Market Growth
The UTM market is influenced by several factors. While some of these factors are directly responsible for boosting the growth of the market, others are responsible for restricting the growth.
Figure: Global UAS Traffic Management System Market, Business Dynamics

Market Drivers
Increasing Deployment of Drones for Commercial and Civil Applications: The advent of drones or UAVs has opened up several opportunities in the market. These drones are being used across various commercial and civil applications, owing to the benefits associated with them. These benefits include efficiency, ease of use, and significantly low operational costs. The development of better and more capable products, services, and business models in response to changing customer needs has remained the sole focus of UAV manufacturers for the past few years. Drones can be deployed for various applications such as construction, site monitoring and inspection, photography and videography site monitoring, as well as marketing and advertising.


Focus of the Unmanned Vehicle Industry on BVLOS Operations: There are different types of commercial drones that operate in visual line of sight (VLOS) and beyond visual line of sight (BVLOS) missions. BVLOS operations are expected to have greater economic value as compared to VLOS missions, and thus, BVLOS will require greater autonomous capabilities. Therefore, with the growing number of drones in the sky, there is a substantial need for the development of UAS traffic management (UTM) to accommodate all drones (VLOS and BVLOS) and manned operations. The growing potential for drones has made NASA initiate the development of UTM technology based on the research and development experience of air traffic management.
Market Challenges
UTM Separation Management Challenges: The unmanned aircraft operating in a UTM system must be able to detect and avoid each other as well as other obstructions such as terrain, buildings, and adverse weather. The separation management in a UTM has to be addressed to ensure scalability. It should also consist of additional standards, policies, capabilities, and tools.


Rising Concerns on Security, Safety, and Privacy: The increasing use of drones for commercial as well as recreational purposes has given rise to numerous concerns. One of the major concerns with drone application in urban environments is public safety and security. The drone operators also raise many security concerns as there is a high probability of untrained and inexperienced professionals crashing the drones. Furthermore, illegal surveillance and delivery of illicit items are some other security and safety-related concerns associated with drone delivery systems.
Applications of UAS Traffic Management (UTM) System Market
The potential application areas for UAS traffic management (UTM) system market include: precision agriculture, package delivery, mapping, disaster management, law enforcement, construction, and critical infrastructure. The critical infrastructure further includes inspection of railway lines, oil and gas pipelines, powerline, and windmill inspection.
The mapping application of commercial drones dominated the market in 2020 with the maximum market share and is expected to dominate the market in 2031 as well.
Stakeholders in the UAS Traffic Management (UTM) System Market
UAS service suppliers
Commercial drone operators
Data service providers
Law enforcement
Communication system providers
Air navigation service providers
Major Players Operating in the Market
Altitude Angel
AirMap
Airbus
Dedrone
DJI Innovations
Kitty Hawk
Leonardo Company
OneSky
Precision Hawk
SRC Inc.
Skyward
Thales Group
The Boeing Company
Unifly
vHive
Other Companies
Exponent Technology Services
Indra
Intel
NTT Data
RakutenAirMap Inc.
Terra Drone
X Development LLC
ANRA Technologies
UAS Traffic Management (UTM) System Market
For more information, visit MarketResearch.com to download a sample of the UAS traffic management UTM system market report by BIS Research, which provides critical insights into the market. This comprehensive report draws on research from a mix of primary interviews and secondary research, along with analytical tools that have been used to build the forecast and predictive models.
---
About the Publisher: BIS Research is a global market intelligence, research and advisory company that focuses on emerging technology trends that are likely to disrupt the market. Its team includes industry veterans, experts, and analysts with diverse backgrounds in consulting, investment banking, government, and academia.