The Holy Grail of customer experience is one that has been purposefully built by a company and creates energized advocates. Customer experience leaders consider what the customer experience should be, and then consciously create a complete experience to fulfill that expectation.
But one size (or one experience) doesn't fit all. Segments or groups of customers may require different experiences. If your company can tailor the customer experience to a variety of customer segments, it will be on track to providing every customer with a great experience.
Four Seasons Resorts knows that its customers have many different preferences for a vacation. They offer a variety of hotel options based on the customer's interest in beaches, skiing, family travel, golf, and more. For each vacation option, Four Seasons provides different hotel choices, different activities, and a different customer experience. Everyone is happy.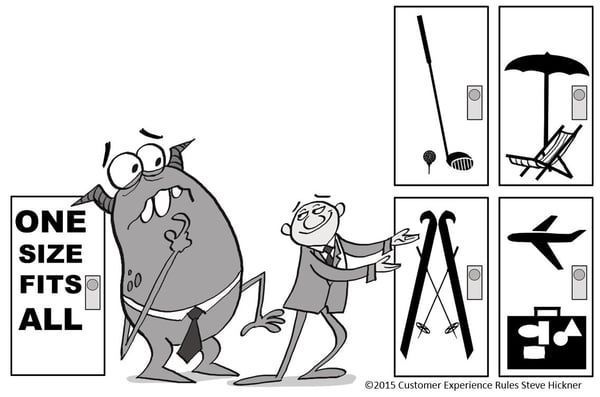 Market segmentation used to be based on needs, economics, and demographics. But today's segmentation based on customer experience relates to what the customer wants your product or service to do for them in a pleasing and timely way.
For a supermarket, the customer can be segmented this way: those who prefer home delivery, those who call in their order but pick it up at the store, and those who come in the store and select for themselves. Each segment will have a different customer experience with the store, which can be tailor-made for each segment.
Learn about what your customers want along the entire customer experience continuum including your messages, people, processes, products, and services. Do they divide into a number of segments that are insightful for your decision making and their engagement? Then create a customer experience designed especially for each.
To learn more about using market research to gain insights into your customer base, check out our free eBook.
Editor's Note
This post was written by Jeofrey Bean, author of the business leadership books Customer Experience Rules! and best-selling customer experience book The Customer Experience Revolution: How Companies like Apple, Amazon, and Starbucks Have Changed Business Forever.
About the Author
Jeofrey Bean assists companies in making successful decisions about Internet marketing strategies and improving customer experience as an advisor, keynote speaker, and by leading training seminars or workshops.
Jeofrey is known for innovative yet practical insights delivered with a dash of humor at venues including J.D. Power Service Excellence Summit and as a guest on host John Hockenberry's "The Take Away" program on National Public Radio (NPR - PRI). He also a part-time Professor of Business Management and Marketing at UC San Diego Extension teaching Internet Marketing and Customer Experience leadership.