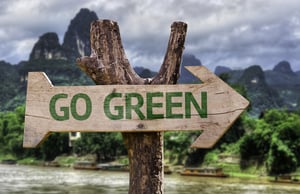 Alternative fuels and energy sources are becoming increasingly significant due to the ongoing climate crisis. That has led businesses to resort to next-generation fuel substitutes such as green methanol fuel and bioethanol fuel to help decrease hazardous emissions entering the atmosphere through chemical production processes.
Currently, the majority of methanol generated worldwide today is known as fossil methanol which is made from gas-derived carbon dioxide. The production process of fossil methanol from coal produces heavy amounts of carbon dioxide. However, depending on the feedstock quality and gas supply, carbon emissions during the synthesis of methanol using natural gas can differ.
While grey methanol is still widely used in the fossil fuel sector, it is not helping with the net zero carbon emission goals. Hence, industry experts are working on green methanol fuel alternatives to find a sustainable solution.
This article will walk you through the composition of green methanol fuel, production of green methanol, and the potential of green methanol as a sustainable fossil fuel.
What Is Green Methanol?
The simplest alcohol, with the molecular formula CH3OH, is called methanol. It is a thin, flammable, and colorless liquid with a distinct alcohol odor. As a chemical or component of fuel, methanol has numerous uses.
Green methanol, also known as renewable methanol, can be made from a variety of materials, including biomass, byproducts from forestry and agriculture, biogas, sewage, municipal solid waste (MSW), black liquor from the pulp and paper industry, carbon dioxide, and green hydrogen generated using clean electricity.
Green methanol has been more popular in recent years as the need for low-carbon, ecological, and renewable fuel sources have grown. As a fuel with no carbon emissions and considering the rising investments in renewable energy and the hydrogen economy, businesses are growing more and more interested in green methanol.
The key factor influencing the rise in interest in green methanol is the increasing need for green hydrogen and conventional hydrogen. According to the International Energy Agency (IEA), the demand for hydrogen reached roughly 90 million tonnes in 2020, which was an increase of 50% in two decades.
According to the IEA, the chemical industry used over 45 million tonnes of hydrogen in 2020, while the refining sector used roughly 40 million tonnes.
Other significant factors influencing the growth of the green methanol market include the rising demand for environment-friendly fuels, investments in renewable energy from both the public and private sectors, and the International Maritime Organization's (IMO) focus on decarbonizing the maritime sector.
According to a newly published BIS Research report, the global green methanol market is projected to reach $3.05 billion by 2031 from $122.35 million in 2021, growing at a CAGR of 39.63% during the forecast period 2022-2031.
Green Methanol Fuel Production with Sustainable Technology
Traditionally, methanol is produced from the synthesis of gas by the hydrogenation of carbon monoxide and carbon dioxide. The world's greenhouse gas emissions are a result of this process, also known as the reversed water-gas shift reaction.
In order to make green methanol, a variety of renewable feedstock sources can be used, including municipal solid waste (MSW), agricultural waste, forestry waste, carbon dioxide (CO2), and renewable hydrogen created through water electrolysis.
For instance, in the Netherlands, a facility being built by the biochemical business Enerkem will be able to transform 270 million liters of bio-methanol annually from about 350,000 metric tonnes of municipal trash, including non-recyclable plastic and other materials. Up to 420 million metric tonnes of non-recyclable municipal waste can be converted into bio-chemicals using Enerkem's recently developed disruptive technology.
These are a few of the most significant sources, but they are not the only ones, as biogas produced by fermentation from landfills, wastewater treatment facilities, or animal wastes can also be used as a source of feedstock for the production of green methanol.
In addition, green methanol is created by feeding renewable energy sources like sun and wind to reactors that use renewable feedstock to create methanol. Modern technology makes it possible to collect carbon dioxide from industrial exhaust streams, including those from power plants, steel and cement mills, and distilleries.
Additionally, methanol can be produced using this trapped carbon dioxide as a feedstock. To manufacture 4,000 metric tonnes of green methanol, for instance, Carbon Recycling International uses 5,600 metric tonnes of carbon dioxide annually.
To effectively minimize greenhouse gas emissions and aid in the management of climate change, green methanol should be adopted as a sustainable fuel.
Green Methanol Fuel as a Sustainable Replacement of Fossil Fuels
Methanol may be used in combustion engines, fuel cells, and power blocks since it is a liquid at atmospheric pressure and temperature, and because of this, the infrastructure needed to use it as a fuel is already in place.
Methanol reduces carbon dioxide emissions by up to 95%, nitrogen oxide emissions by up to 80%, and sulfur oxide and particulate matter emissions by up to 80% when compared to traditional fossil fuels.
Additionally, the need to discover clean fuels to power economic activity has been driven by the growing awareness of the threat posed by climate change among government agencies, businesses, and energy groups. In this context, renewable methanol has emerged as a superior clean substitute for fossil fuels, offering a direct route to drastically reducing emissions in the maritime, overland transportation, and power generation sectors, among other industries.
Furthermore, green methanol is becoming more popular as a sustainable substitute for fossil fuels that are often used in passenger and cargo transport at sea due to mounting environmental and political pressure to minimize greenhouse gas emissions.
In several nations, including China, the U.S., Norway, Chile, and others, green methanol is utilized extensively as a transportation fuel. Several businesses, like Wärtsilä and A.P. Moller-Maersk, have noted the swift uptake of green methanol as e-fuel in the shipping industry globally.
To accommodate the growing demand for greener options, Auramarine has created one of the first eco-friendly methanol fuel supply systems in the market in 2022. Testing is currently being conducted on this modular system, which can be utilized in retrofit projects to upgrade two- or four-stroke engines to dual-fuel methanol service.
Looking Ahead
Green methanol fuel has the potential to play a significant role in decarbonizing various industry sectors such as marine, transportation, and chemical, as options for chemical feedstock or greener fuels are currently limited. However, the main challenge is to make green methanol fully competitive with fossil fuels by cost and supply to boost its commercial diffusion.
Learn More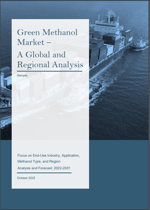 For more information about this fast-growing market, please see Green Methanol Market - A Global and Regional Analysis, a detailed 239-page report packed with data and insights covering market segmentation, recent market developments, market demand, drivers and challenges, the competitive landscape and key players. This report provides valuable data-driven market intelligence to help companies that are developing strategies for product innovation, sales growth and marketing, and competitive benchmarking and positioning.
---
About the Publisher: BIS Research is a global market intelligence, research and advisory company that focuses on emerging technology trends that are likely to disrupt the market. Its team includes industry veterans, experts, and analysts with diverse backgrounds in consulting, investment banking, government, and academia.