B2B market research is defined as the systematic collecting, recording and analyzing of information in support of decision making in business-to-business (B2B) commerce. Almost all businesses conduct some type of market research, whether formal or informal, as input in support of making informed and sound business decisions. By far, the most common form of B2B research is focused on sizing markets, projecting market growth, competitive intelligence, and understanding market dynamics. This information is typically used in the company's strategic planning process and is only conducted on an annual basis.
Examples of business questions custom research can answer
But what else can custom market research provide? We would argue that well-designed market research can provide the proper insight to answer almost any strategic or tactical business question. A bold statement…yes, but here are some examples to consider.
Of the potential locations for our new manufacturing plant, which one has access to the most potential customers and revenue?
Insight Delivered: All potential customers within a given shipping radius were profiled. The profiles contained current suppliers, SKU specific volume, contract information, and purchasing contacts. All of the data collected for each potential plant location was then input into a model which calculated the optimal plant location based on the predicted revenue potential within a specified time horizon.
Can I establish a unique, viable value proposition that would resonate with a new sales channel within the market and allow higher value?
Insight Delivered: Through discussions with various purchasing influencers and stakeholders in the targeted market, we discovered that the product characteristic with the highest opportunity potential was sustainability. Then, working with the client to create a differentiated value proposition around sustainability, we were able to identify the proper sales channel that would create the necessary "pull" for the product.
I have what looks like a traditional product but delivers much more than the traditional product, how should I price it?
Insight Delivered: The initial pricing of a product that is unique to the market and delivers added value that is difficult to quantify is a challenging process. We conducted interviews with potential end users and purchasers of the product and analyzed data based on a VanWestendorp pricing model to establish the range of acceptable pricing associated with the value of the product delivered. The traditional approach asks four price-related questions (expensive, cheap, too expensive, too cheap), which are plotted to determine the range of acceptable prices.
VanWestendorp Pricing Model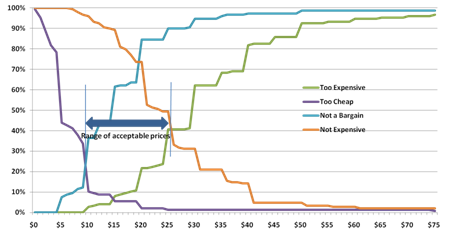 Image Source: 5 Circles Research
I am considering acquiring a company, what is the certainty of the ongoing revenue stream?
Insight Delivered: All companies conduct due diligence when evaluating a potential acquisition, but one of the critical questions that is often overlooked in the due diligence process is the likelihood (or vulnerability) of the future revenue projections. In a market due diligence process, the focus is on the vulnerability of stated future earnings, discussing the likelihood of continued volume and pricing, and the competitive environment with the current customer base. Then, based on the findings, future revenue scenarios are created and their effect on the overall valuation of the acquisition. This provides companies with fact based information to support or challenge the future revenue assumptions made by the acquisition target.
Conclusion
These examples illustrate the power of well-conceived and executed B2B market research efforts in providing insights that answer both tactical and strategic business questions. Leading companies understand the flexibility of market research and are constantly exploring new ways to use traditional B2B marketing techniques to gather the insights that are needed to grow their businesses.
Custom research can and should be considered when addressing needs around distribution channels, product design in the B2B space, branding, growth strategy, and value creation or pricing. Targeted, custom research projects are more than just the assembly of information; it provides substantiated insights to support strategic business decisions and organizational growth.
For more information on determining how to successfully navigate the market research process, download our free eBook. If you have questions about our custom research, find out more about our services.
Editor's Note:
This post was written by Priority Metrics Group (PMG), a MarketResearch.com partner in custom research.
About PMG:
Priority Metrics Group (PMG) is a professional marketing consulting firm based in Spartanburg, South Carolina. PMG provides customized research, analysis, and consultation services designed to generate profitable growth for clients. They work with leading organizations in a variety of manufacturing and service industries. They are experts at gathering and processing market information, analyzing data, and translating information into actionable growth initiatives.