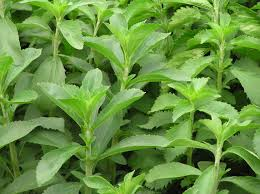 Warmer weather and longer days motivated me to make my first trip of the season to Home Depot's Garden Center. Like last year, stevia plants were for sale. Of course, I had to ask how they are selling, and the clerk assured me they are a hit.
Earlier that day I interviewed James Kremer, Executive Chef and Director of Food and Beverage at Country Club of Peoria, Peoria, IL, for an article I am writing on a topic for Culinology. He offered this from our conversation:
"I always try to prepare foods in the healthiest manner, and that includes keeping calories low. We grow stevia on the property and I use the leaves in many of my dairy desserts, including crème brulee and panna cotta. We explain on the menu that the stevia is grown right here and that it is a no-calorie, all-natural sweetener. The desserts are very well received."

Stevia-based ingredients are considered natural, high-intensity sweeteners in the food and beverage market. They are based on extracts from leaves of the Stevia rebaudina plant. Numerous ingredient companies are extracting the sweetest compound from the leaves, the steviol glycoside known as rebaudioside A (reb-A), which is non-cariogenic, contains no calories and has a zero glycemic index, making it safe and suitable for diabetics.
FDA has not actually permitted the stevia plant itself to be used as a food ingredient in packaged foods, only the reb-A extract, and only ingredients that contain 95% or more pure reb-A. FDA recognizes reb-A as GRAS for use as a general purpose sweetener.
With reb-A being one of about a dozen sweet-tasting compounds in the stevia plant, suppliers are differentiating themselves by reb-A content, as up to 5% of a stevia-based sweetener can be something other than reb-A. Most of the zero-calorie stevia-based sweeteners are 200 to 300 times sweeter than sugar.
Recent Dairy Innovations Sweetened with Help from the Stevia Plant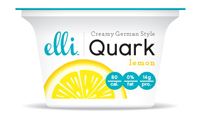 Quark by elli is a fresh, German-style soft cheese, similar to cottage cheese, but with a smoother and creamier texture, and offering a milder taste than Greek yogurt. Sweetened with a proprietary blend of stevia and erythritol, the company is able to keep calories low.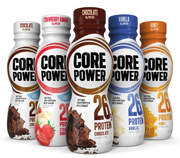 Core Power is produced and marketed by Fair Oaks Farms Brands Inc., using fresh, quality real milk that undergoes a unique cold-filtration process. This yields fresh milk with increased amounts of protein in the same ratio naturally found in milk: 20% whey and 80% casein. Calories and sugar contents are kept low through the use of monk fruit juice concentrate and stevia leaf extract.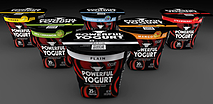 Powerful Yogurt is a super-protein Greek yogurt that aims to serve the health and performance needs of busy men with active lifestyles. The product is differentiated from existing Greek yogurts by its 20 to 25 grams of natural protein per serving, which is a "man-sized" 8-ounce container that is at least 33% larger than most individual-serving Greek yogurts. To keep sugars down to 21 to 23 grams per serving in the fruited varieties, the company uses a combination of sugar and a stevia-derived sweetener.
Thanks for reading!

Donna Berry
Food Scientist, Consultant
To get a full dose of Dairy, go to www.berryondairy.com to learn about new featured dairy products every day.