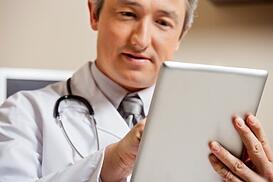 Healthcare organizations have long been searching for ways that healthcare technology can help them innovate and provide better outcomes. A particular challenge is the paper patient files that doctors and hospital staffs create, which no longer comply with trends in the healthcare IT market.
The key to transforming healthcare organizations from paper-based to paper-less is Electronic Medical Records, EMR.
EMR, Defined
Simply put, EMR is a computer-based patient medical record. If you visit a physician and he or she writes notes on a piece of paper stored in a folder, that's helpful only if the paper is present every time you are treated. If those notes are entered into an electronic system, it can be accessed and used by many providers and staff from different locations. Electronic records are normal for many industries, but healthcare applications require special functions and safeguards that have made industry-wide change-over something of a challenge.
The record, and related software, facilitates the following tasks:
Easy access to patient data by the clinical staff at any location
Automated checks for drug and allergy interactions
Clinical notes
Prescriptions
Retrieval and archiving of laboratory reports and other test results
Scheduling of patient visits
Claims processing by insurance companies
EMR helps doctors ask relevant questions, and follow-up on points from earlier visits. It allows healthcare organizations to more reliably ensure that patients are receiving only relevant treatments and tests. EMR systems can actually do more than just store data – they can facilitate ordering of lab tests and electronic prescriptions.
Hospitals have led the way in EMR. Over the last 20 years, medical institutions have encouraged the shift towards computerization to help manage patient information. Another itiration of this IT trend in medical care is Advanced Remote Patient Monitoring Systems.
EMR's Growing Market Footprint
Most hospitals use EMR systems, and a variety of vendors including large IT companies such as McKesson and Cerner and smaller companies such as NextGen, eMDs and Epic. These and scores of other companies compete in a market to service hospitals and physicians. Kalorama Information has valued that market at over 20 billion dollars when software and related services are considered.
But a lot of that market represents hospitals with IT budgets to pull off an institutional change. The largest obstacle to a paperless healthcare system has thus far been the individually practicing physician. While many physicians have embraced healthcare technology, it's taken some time to get a substantial amount of the profession behind the trend. Since physician offices represent nearly half of healthcare establishments, that's a big part of the system still using a lot of paper records.
Thus in 2009, as part of the American Recovery and Reinvestment Act (ARRA), sometimes known as the stimulus bill, a provision was included to provide 20 billion dollars of incentives for physicians who use EMR rather than paper. The incentives are provided in the form of extra Medicare or Medicaid reimbursement payments. There's a catch though: physicians must do more than simply buy the systems, they have to demonstrate that they've used EMR in a meaningful way.
Benefits of EMR
Among the steps are: entering a certain percentage of patient records, ordering a defined percentage of prescription through an EMR system, providing some patients access to their records, and other conditions.
To some degree, the incentives are working.
Statistics from the National Ambulatory Medical Care Survey (NAMCS) indicate that 71.8% of the office-based physicians used partial or full EMR systems in 2012, a 26% increase from the 57% reported in 2011.
The results are reason to be sanguine. However, it is important to emphasize that the paper records are here to stay for a considerable period along with electronic records. Most health systems use a combination of electronic medical records and paper charts, and it may take a decade or more before the written records become completely obsolete.
For more information on Healthcare IT, download our free white paper.
Thanks for reading!


Bruce Carlson
Publisher
Kalorama Information