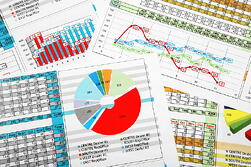 Are you flying blind on market research? What is your market research strategy plan? How do you find a quality market research report? Knowing where to locate reliable high quality research for your industry is essential for the continual growth of your company.
Attempting to fly your business without pinpoint market research is like trying to pilot an Airbus with a faulty altimeter – you'd be putting the livelihood of your company at substantial risk.
Below is a list of Do's and Don'ts for choosing market research that's right for you.
First, here's a quick guide through two key definitions of market research. Our Rob Kaminsky, a Research Specialist, outlined the basics you'll need before getting underway. For starters, you'll need to decide whether you need primary research or secondary research, Rob says:
An analyst writing a report will always use a mixture of primary and secondary research to provide accurate information and conclusions, so the issue is really how much of each would be better.
A primary research report is information gathered through surveys, interviews and other direct contact with industry experts and participants. So, if the analyst has contacted the CEO of several top medical device manufacturers to get their opinion on where the market for their products is heading, that would be primary research.

A secondary research report is information gathered from previously published information. This includes analyzing company reports, searching trade association documents and industry journal articles. So, looking at the top medical device financial filings would be an example of secondary research.
If you have lingering questions about which iteration of market research you need (or if you need guidance on which questions to ask in order to make that determination), Rob's full post is required reading.
Now, here are quick tips to help you pin down the research you need to secure your company's safe passage:
Define your

market research strategy plan and goals

. Decide before you request a market research report exactly why you need the information, and the goal you want to reach by obtaining the data.

Don't conduct interesting but ultimately useless research. Your research should be conducted among your defined target audience – and should produce actionable results. You want sniper fire, not buckshot!

Avoid letting your front-end questions do unnecessary heavy-lifting. Shape questions that are succinct, not superficial: Consumers often don't know what they prefer but the right questions can reveal their preferences and habits.

Consider market research results in context. Avoid oversimplifying the data. Don't under-analyze the results. When drawing conclusions based on the results, be careful that all the essential factors are accounted for, and that you understand the findings and can explain them.

Conversely, you don't want to over-analyze the findings, either. This sounds contradictory in light of Tip #5 but here is what we mean: Advanced computing capabilities and sophisticated algorithms now make it possible to turn just about any data into reasonably relevant 'market research.' But if you haven't designed the search properly, you can't fake it: avoid the temptation to try to shoe-horn results into the box you need. Your business itself and your partners deserve high-integrity market research, i.e., results that are accurate and relevant!

Choose the right research firm! This seems obvious, right? But your business is unique and so are market research firms – your technical needs come first, but you also want a company with a vision, performance rate, and sensibility that match your own.

By developing a smart
market research strategy plan
, you'll see that market research can quickly earn its keep within your budget. Master the fine science of finding and using quality market research, and you'll soon be sailing your company across time zones with confidence.
To learn more on how to use the right market research to launch your business or product, download our free white paper.

Amy Alexander
Senior Writer/Content Manager