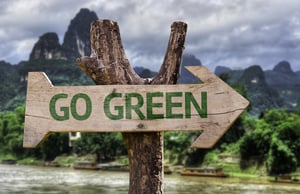 The development of national and international "net zero" objectives has been one of the most noteworthy characteristics of climate policy in recent years. While these are long-term goals, the impacts are far-reaching, far more so than, for example, an 80 percent decarbonization objective. Under an 80 percent carbon reduction target, a slew of carbon-intensive businesses may believe they are among the 20 percent that do not need to alter structurally.
Once a net zero objective is set, there is nowhere to run and no way out. Several major countries, including Europe, the U.K., China, South Korea, Japan, Canada, South Africa, and the U.S., have all adopted these objectives. In addition, renewables and batteries can help to decarbonize power generation and the automobile industry. Heating may also be decarbonized in some areas by using heat pumps driven by renewable energy.
Over the last decade, significant revolutions have been witnessed in the chemical industry. From the introduction of green hydrogen, technology, and process, the green hydrogen industry has always steered ahead in terms of technological innovations. Researchers and green hydrogen industry players have been experimenting with different technologies for years and looking out for the cost reduction of green hydrogen that can be highly advantageous in overcoming the challenges faced by end users.
Based on the market intelligence published by BIS Research, the global green hydrogen market was valued at $2,570.5 million in 2020 and is projected to reach $4,455.8 million by 2031. The market is expected to witness a CAGR of 5.13% between 2021 and 2031.
Factors Influencing the Green Hydrogen
Growth Drivers
There is a lack of understanding about how green hydrogen is created, its advantages, and its definition. It should be remembered that social barriers that arise when implementing modern technologies, including the development of hydrogen energy, are the hardest to overcome. Social resistance may cause a given investment to be suspended, delayed, or, worse, not realized at all. However, to identify the kind of social or ecological actions that are needed, the people's knowledge level and attitudes relating to the topic under study should be determined. Numerous interesting studies have been conducted on green hydrogen energy technology and its use.
The cost of green hydrogen is determined mostly by the cost of energy. The cost at which electricity is procured from solar PV (photovoltaics) both stand-alone and hybrid and onshore wind plants has decreased substantially. Similarly, according to International Renewable Energy Agency (IRENA), the average price of onshore wind farms is expected to decline by 45 percent from 2019 levels by 2030, while offshore wind farms is expected to decline by 50 percent. Therefore, the production of green hydrogen is increasingly becoming economical, owing to the continuously decreasing cost of solar photovoltaic and wind electricity generation, which, in turn, is expected to drive the growth of the global green hydrogen market during the forecast period.
Market Challenges
One of the primary factors limiting market expansion is the high cost of production. Green hydrogen generated with electricity obtained from an average variable renewable energy (VRE) plant is approximately 2-3 times more expensive than grey hydrogen. Furthermore, the implementation of green hydrogen technologies for a variety of end users such as oil and gas, petrochemical, electric vehicles, and power generation might result in high prices.
Additionally, with minimal specialized transport infrastructure, hydrogen has been created close to where it is delivered and utilized. According to a report published by the Hydrogen Analysis Resource Center, 2016, there are approximately 5,000 kilometers (kms) of hydrogen transmission pipelines laid around the world compared to more than 3 million kms of the pipeline for natural gas. Moreover, synthetic fuels produced from green hydrogen may be able to use existing infrastructure, though it might need to be expanded. As a result, the inadequate dedicated infrastructure and retail stations are projected to hamper the global green hydrogen market's growth to some level over the forecast period.
Green Hydrogen Market Segmentation
Technology
Technology plays a vital role in the production of green hydrogen. Different technological advancements have led to the increased production of green hydrogen. The technologies that are a part of green hydrogen include proton exchange membrane (PEM) electrolyzer, alkaline electrolyzer, anion exchange membrane, and solid oxide electrolyzer. In PEM water electrolysis, water is electrochemically split into hydrogen and oxygen at their respective electrodes, such as hydrogen at the cathode and oxygen at the anode. PEM water electrolysis is accrued by pumping water to the anode, where it is split into oxygen, protons, and electrons.
Application
The global green hydrogen market is expected to expand rapidly as a result of its improved functionality and distinct properties, which are required in applications such as oil and gas, petrochemical, electric vehicles, and power generation. Green hydrogen is one of the gases with an increase in demand from the petroleum refining industry due to its function in different refining processes. Green hydrogen is used to produce ammonia in the petrochemical sector, which can power household cleaning and fertilize plants.
One of the most promising areas for green hydrogen is the electric vehicle market. A hydrogen vehicle is an alternative fuel vehicle that uses hydrogen as its primary fuel. Hydrogen vehicles include space rockets, automobiles, and other means of transportation. The electric vehicles industry is another emerging application area for green hydrogen.
Region
North America comprises regional markets of the U.S., Canada, and Mexico. In North America, the U.S. is the largest market with the fastest growth rate in the green hydrogen market. The U.S. has always been at the forefront of the world map when it comes to technological advancements. Even the companies which are not U.S.-based have a significant presence in the U.S., either because of their manufacturing facilities or R&D bases.
Key Companies Operating in the Market
| | | |
| --- | --- | --- |
| Linde | Air Liquide | Air Products Inc. |
| ENGIE | Uniper SE | Siemens Energy |
| Green Hydrogen | Cummins Inc. | Toshiba Energy Systems & Solutions Corporation |
| Nel ASA | SGH2 Energy Global, LLC | Loop Energy Inc. |
| Ergosup | Ballard Power Systems | Plug Power Inc. |
For more information, visit MarketResearch.com to download a sample of the report by BIS Research. This comprehensive report draws on research from a mix of primary interviews and secondary research, along with analytical tools that have been used to build the forecast and predictive models.
---
About the Publisher: BIS Research is a global market intelligence, research and advisory company that focuses on emerging technology trends that are likely to disrupt the market. Its team includes industry veterans, experts, and analysts with diverse backgrounds in consulting, investment banking, government, and academia.
---
Related Articles