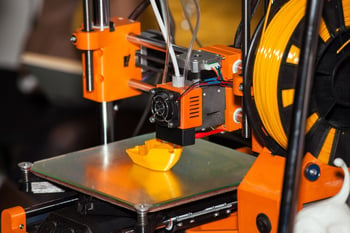 3D printing has been identified as one of the major disruptive technologies of this century that has the potential to change manufacturing activities across various industries. 3D printing technologies can help companies differentiate their business and gain a powerful competitive advantage.
Learn about five leading trends in 3D printing materials, based on the findings from multiple syndicated research reports published by MarketsandMarkets, a global market research company.
1. Increasing adoption of 3D printing as a commercial manufacturing technology is likely to drive the demand for 3D printing materials.
Major industries that have been early adopters of 3D printing technology include aerospace & defense and healthcare for production of various parts and components. This has resulted in increasing demand for the materials that are used for various 3D printing technologies. Major materials types include metals, plastics, and ceramics that are used in aircraft components, orthopedic implants, and other industry components. Major material manufacturers have developed specialized grades to cater to different industry requirements.
2.
Material manufacturers are adopting forward integration through organic and inorganic growth strategies to improve market presence.
Major manufacturers of 3D printing materials have adopted forward integration through organic growth strategies such as expansions, as well as inorganic growth strategies such as mergers & acquisitions, collaborations, and other activities to promote their material grades, subsequently increasing their market presence. This dynamic can be observed in the case of 3D printing metals and 3D printing plastics — which have been the major material types — and will lead to an increase in the supply of material grades, thus reducing production costs.
3.
Polyamides are expected to dominate the 3D printing plastics market.
Plastics or polymers are the major materials used for 3D printing. Acrylonitrile Butadiene Styrene (ABS), Polylactic Acid (PLA), and polyamides are the major polymers that are used in both commercial as well as general applications. ABS and PLA are extensively used in the Fusible Deposition Modelling (FDM) technology in 3D printing; many patents related to this technology expired in 2008. Polyamides are used in powder form in the Selective Laser Sintering (SLS) technology; a majority of patents related to this technology expired in 2014. SLS is widely used in commercial practices and is expected to dominate the 3D printing market in terms of technology. Polyamides such as PA11 and PA12 are major polymers that can be used in powdered form. Major companies manufacturing PA11 and PA12 such as Arkema SA (France) and Evonik AG (Germany) have been largely instrumental in promoting these grades, along with major companies operational in the 3D printing market, including 3D Systems Corporations (U.S.), and EOS GmbH (Germany), among others. These factors are expected to boost the demand of polyamides as major 3D printing plastics in near future.
Snapshot: 3D printing plastics market: Technologies & end-use industry applications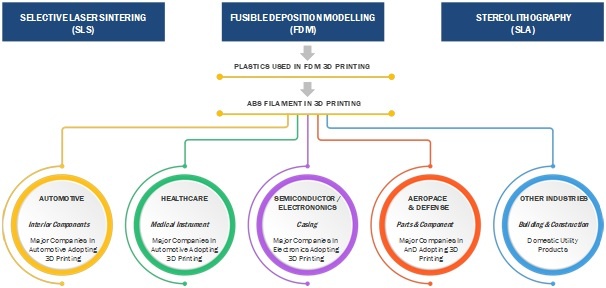 4. Powder form is predicted to drive the growth of the 3D printing metals market.
The growth of the 3D printing metals market is expected to be driven by the expiration of key patents in 2014 related to powder-based additive manufacturing. Significant investments have been made by companies operational in the 3D printing metals market to manufacture parts of jet engines and other aircraft components using 3D printing metal powders. Titanium is one of the most preferred metal powders used across different end-use industries. Metal powder manufacturers and suppliers are investing in capacity expansions to meet the rising demand from their end users. Major companies in the 3D printing metals market include Metallysis (U.K.) and Arcam AB (Sweden). Major companies such as Sandvik AB (Sweden), GKN PLC (U.K.), and Hoganas AB (Sweden) are developing various metals powder grades for different functions.
5.
Rapid prototyping is expected to remain a major application of 3D printing technology in the near future.
Major applications for 3D printing include tooling, manufacturing, and rapid prototyping. Rapid prototyping among these applications is expected to remain the major application due to its use in new product development testing and other research activities. 3D printing has been one of the established prototyping technologies that traditionally saves production costs in the case of developing testing models by various industries. Other major applications include tooling and manufacturing that promise high growth in the strategic future.
Access additional research
To access global market forecasts and more in-depth research into these subjects, please see the following reports published on 3D printing materials. Links are included below:
These reports are designed to help stakeholders to understand the pulse of the market and access expert information on key market drivers, restraints, challenges, and opportunities.
About the Author: Ajay Duppaliwar is a Senior Research Analyst at MarketsandMarkets.
---
Related reading