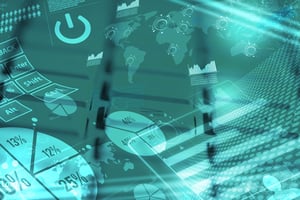 Worldwide, we are seeing advances in internet penetration and the countless results from it. These are directly affecting the alternative data industry, causing huge growth opportunities in the market.
The global alternative data market size is expected to grow from $1.70 billion in 2020 to $2.41 billion in 2021 at a compound annual growth rate (CAGR) of 41.4%. The change in growth trend is mainly due to the growing demand for alternative data sources owing to rising interest in stock market trading. The alternative data market is expected to reach $8.98 billion in 2025 at a CAGR of 39%.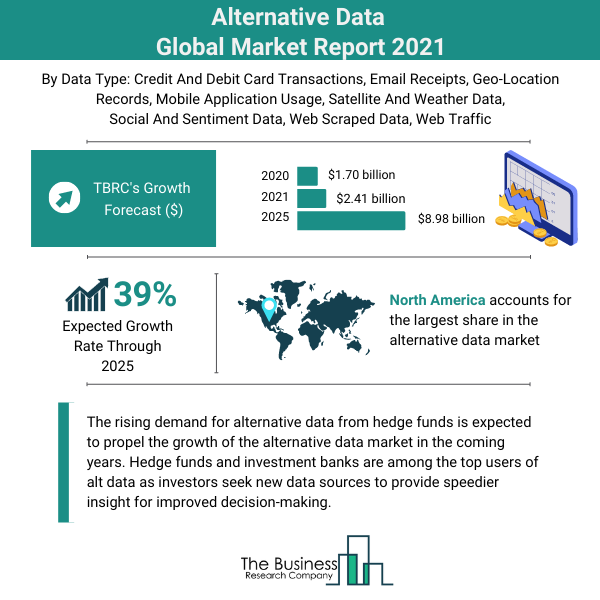 A recent report by The Business Research Company highlights some of the major drivers that are shaping the market:
1. Increased Number of Smart Cities
The alternative data market is expected to be supported by rapid growth in investments in smart city projects in many countries globally. Smart-city technologies use information and communication technologies to efficiently manage and operate urban services including transportation systems, water supply, and law and order. Big data has various applications including transport, public safety, city budgets, and more. Smart cities also use predictive, big-data analytics to identify which areas are prone to be hubs of crime and predict the exact crime locations.
2. Increase in Internet Penetration
Extensive digitization across the globe is increasing; thus, established enterprises are investing heavily in alternative data. The increasing internet penetration gives individuals and enterprises access to a wide variety of applications and increases the amount of data generated from users, which will boost the demand for alternative data in the forecast period.
3. Increasing Adoption of 5G Networks
The increasing adoption of 5G networks is expected to drive the alternative data market in the forecast period. 5G networks will accelerate the uptake of alternative data applications and services and enable new use cases. The increased bandwidth offered by 5G allows more data to be sent during a given period of time, and the lower latency allows data to reach its destination faster. These networks provide increased coverage which supports multiple network topologies allowing alternative data to communicate easily. 5G will also lead to an increase in data traffic, not only from smartphones, but also Internet-of-Things (IoT) enabled devices.
4. Favorable Government Initiatives
Government initiatives to promote smart technologies had a significant impact on the alternative data market growth in both developed and developing countries. By collaborating with tech corporations, they aim to enable the use of the internet safely, protect personal data, maintain privacy, and learn about modern data science. Favorable initiatives by the governments are expected to positively impact the alternative data market in the forecast period.
5. Growing Interest in Stock Trading
Rising interest in stock trading is driving the growth of the alternative data market in the forecast period. Large stock trading firms are using alternative data approaches for better yield and returns. A renewed interest in bonds has increased the interest in non-traditional bonds and strategies such as bottom-up corporate bonds and floating-rate bond funds. Increasing interest in stock trading propels the growth of alternative data market.
The alternative data market consists of sales of alternative data by entities (organizations, sole traders, and partnerships) that provide alternative data and help in finding out market insights. Alternative data is characterized as non-traditional data that can give an indicator of a firm's future performance, other than from conventional sources such as corporate filings, analyst predictions, and management instructions. This information can be utilized in pre-trade investment evaluation as well as to assist investors in monitoring the financial health of a firm, industry, or nation.
Key trends, opportunities, and strategies can be found in The Business Research Company's Alternative Data Global Market Report 2021: COVID-19 Implications And Growth, one of a series of reports from The Business Research Company that provides alternative data market overviews, analyzes and forecasts alternative data market size, alternative data market players, alternative data market segments and geographies, the market's leading competitors' revenues, profiles and market shares.
About The Business Research Company
The Business Research Company is a market intelligence firm that excels in company, market, and consumer research. Located globally it has specialist consultants in a wide range of industries including manufacturing, healthcare, financial services, chemicals, and technology. Find the company on LinkedIn, Twitter, Facebook, or YouTube for more.