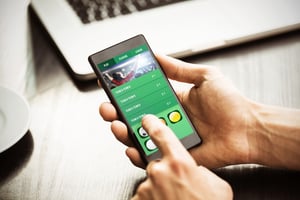 The online gambling industry is seeing major technological advances among other trends that are shaping the market, particularly in reaction to the COVID-19 impact. A recent report by TBRC highlights some of the key strategies that can be adopted by companies to benefit from these trends.
The global online gambling market is expected grow from $64.13 billion in 2020 to $72.02 billion in 2021 at a compound annual growth rate (CAGR) of 12.3%. The growth is mainly due to companies resuming their operations and adapting to the new normal while recovering from the COVID-19 impact, which had earlier led to restrictive containment measures involving social distancing, remote working, and the closure of commercial activities that resulted in operational challenges. The market is expected to reach $112.09 billion in 2025 at a CAGR of 12%.
Asia Pacific accounts for the largest share in the global online gambling market. It is followed by Western Europe, North America, and then the other regions. Going forward, the fastest-growing regions in the online gambling market will be Eastern Europe and Asia Pacific, where growth will be at CAGRs of 16.3% and 12.5% respectively. These will be followed by Western Europe and Africa, where the markets are expected to register CAGRs of 9.3% and 9.3% respectively.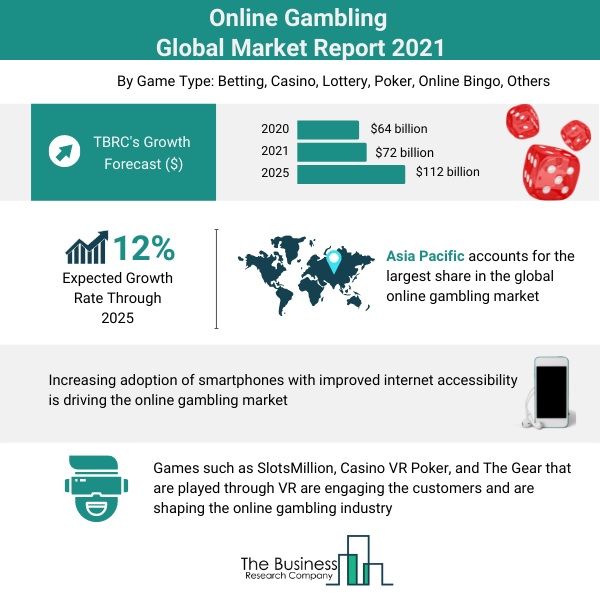 Some of the key strategies for success in the global online gambling market include:
1. Use of Artificial Intelligence in Online Gambling
Companies in the online gambling market are increasingly investing in artificial intelligence (AI) for improving the overall experience for customers with multiple solutions throughout the service. With the help of AI, personalization for each user is possible as the technology can analyze the preference of the user in terms of game selection and offer a customized welcome page accordingly. This helps the user to save the time they would have spent looking for the right game. AI also helps in providing customer support in the form of chat-bots for resolving queries. Through AI, behavior patterns and gaming frauds can also be checked, which helps in preventing frauds and locks out scammers.
2. Virtual Reality/Augmented Reality to Enhance User Experience
Companies in the online gambling market are increasingly using virtual reality (VR) and augmented reality (AR) to offer a more immersive and realistic experience to their users. Through AR, natural holograms are used to create a 360-degree betting experience and have a total casino-style experience. VR allows a more engaging experience as players can even see each other and detect who is bluffing. This enhances the overall online gambling experience and allows the user to have an engaging gameplay.
3. Online Gambling Companies Sponsoring Sports Teams
Online gambling companies are increasingly sponsoring different teams in sports as part of their marketing initiatives to expand their reach and gain more of an audience through these promotions. The companies invest huge amounts in sponsoring football teams in order to feature their logos on the t-shirts of players. Since these tournaments have huge viewership and are immensely popular worldwide, it gives the online gambling companies an opportunity to get a global audience for marketing their platforms.
4. Mobile Gambling
Online gambling companies are investing in building mobile platforms for their games to increase accessibility and convenience for the user. The availability of smartphones with high-end features, such as extended storage, high-end graphics, and faster processing speeds at reasonable prices incentivize online gambling companies to make mobile-based applications. Also, mobile gambling offers significant benefits, including more deposit options, loyalty programs, and the option to play with anyone anywhere across the globe. According to App Annie, in 2020, 70% of total gambling revenue is expected to come from mobile gambling.
5. Freemium Models in Online Gambling
Online gambling companies are offering F2P (free to play) types of game products, commonly referred to as freemium. These games do not make any money for the company directly, but revenues are made through upgrades and additions of certain features and improvements by the user. The user pays a minimal amount for different kinds of virtual offerings and other game products to improve the gaming experience. This model allows online gambling companies to increase their user base and have more active players on their platforms, who would eventually make a purchase.
More key trends, opportunities, and strategies can be found in The Business Research Company's Online Gambling Global Market Report 2021: COVID-19 Growth And Change to 2030, one of a series of reports from The Business Research Company that provides online gambling market overviews, analyzes and forecasts online gambling market size, online gambling market players, online gambling market segments and geographies, the market's leading competitors' revenues, profiles and market shares.
Interested to Know More About The Business Research Company?
The Business Research Company is a market intelligence firm that excels in company, market, and consumer research. Located globally it has specialist consultants in a wide range of industries including manufacturing, healthcare, financial services, chemicals, and technology. Find the company on LinkedIn, Twitter, Facebook, or YouTube for more.