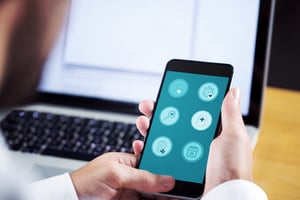 Chatbots are artificial intelligence software that can have conversations with users based on the principle of natural language processing (NLP). The chatbot processes the input provided by the user, focuses on the semantics, searches for the terms in the knowledge database, and provides the suitable answer as per its knowledge set.
At present, the healthcare chatbots market is at a nascent stage and is expected to grow in the near future. Based on the market intelligence report published by BIS Research titled Global Chatbots in Healthcare Market – Analysis and Forecast, 2019-2029, the chatbots in healthcare market generated a revenue of $36.5 million in 2018. The revenue for the market is projected to reach $498.1 million by 2029, growing at a compound annual growth rate (CAGR) of 26.29% during the forecast period from 2019-2029.
5 Trends Shaping the Healthcare Chatbots Market
The global medical chatbot market is influenced by several emerging trends, including factors that are responsible for driving the growth of the market.
These drivers include:
Rise in the usage of smartphones and internet connectivity: With a steady increase of smartphone users globally, internet connectivity has increased tremendously. This has further increased the usage of healthcare applications. In countries where patients pay the for medical treatment, they may prefer to chat with bots about the probable causes of symptoms and take recommendations for straightforward medical conditions in place of scheduling an appointment with a doctor.
Advancements in natural language processing (NLP) and speech recognition

: The advancements in NLP and speech recognition software has led to the development of artificial intelligence-powered virtual assistants, such as Google Assistant and Amazon Alexa. These assistants interact with users on a variety of issues. The same technology, when used in healthcare in the form of chatbots, can help patients with a number of concerns, including patient monitoring and communicating with medical clinics.

Need for cost optimization and enhanced user experience: The geriatric population is rising worldwide and requires frequent health check-ups to ensure comfortable living. For such patients and others as well, the use of chatbots can reduce a number of redundant activities and enhance precision, including the scheduling of appointments, following-up on appointments, and medication reminder offers, among others. Consequently, the overall cost of treatment and response time is reduced, while the patient experience is improved.
Physician shortages and the rise in chronic diseases

: With a growth in the global population, there is an acute shortage of doctors. This has led to a lot of physical and mental stress for many doctors, leading to medical errors in decision-making in certain cases. Chatbots could help alleviate the strain placed on doctors.

Initiatives taken by organizations to promote chatbot use

: Several organizations, globally, are now providing health insurance plans to their employees in order to retain them in the company. These health insurance plans can be either single or family insurance plans as per the preference of the employee. The integration of chatbots within an organization can help in reducing reimbursements for unnecessary doctor visits, and employees can get personalized care as promised by employers.
In addition, there are several factors which have the potential to further propel the adoption of healthcare chatbots. These include applications of chatbots for social media, chatbots for reducing healthcare costs, and the use of chatbots to help provide quality primary care.
On the other hand, there are certain restraints present in the market and are impeding the growth of the market. These restraints include lack of data privacy, lack of expertise, and lack of awareness and distrust in technology.
Segmentation of the Global Chatbots in Healthcare Market
The global chatbots in healthcare market is categorized into five major segments, including component, deployment method, application, end user, and region. The component segment of the market is further segmented into software and services. In 2018, the software segment was the leading component segment of the market. The software segment generated a revenue of $29.9 million, while the services market generated a revenue of $6.7 million.
The healthcare chatbot market based on deployment method is sub-segmented into control over security, customization, deployment, and cost. The method of deployment can be divided into two major categories such as cloud-based chatbots and on-premise chatbots. In case of control over security, it is difficult for chatbot developers to maintain the security of data as cloud vendors are frequently changing their policies. Therefore, it becomes important to ensure the security of data. On-premise chatbots are considered more secure as they provide better control of the entire system and the data. This model is expected to stay specifically in the healthcare sector as companies in this space are more concerned about data privacy ownership.
In case of customization, on-premise chatbots are easy to customize as compared to cloud-based chatbots. Also for on-premise chatbots, there is no dependency on the vendor when it comes to continuous maintenance and support. In case of deployment, on-premise chatbots are expected to dominate the segment of the market. In case of cost, cloud-based chatbots offer multiple pricing options based on usage and requirements of the company. On-premise chatbots, on the other hand, is a one-time investment cost attached to it along with a recurring cost for support services.
On the basis of application, the chatbots in healthcare market is categorized into medical triage, customer service and administration, mental health, health and fitness, patient engagement, and others. The others segment is further categorized into clinical trials, medical reminder, chatbot in research, and chatbots in medical procedures.
In 2018, medical triage was the leading application segment. Each segment generated the following revenues:
Medical triage — $13.8 million
Customer service and administration — $8.1 million
Mental health — $4.4 million
Health and fitness — $6.5 million
Patient engagement — $1.5 million
The others segment — $2.2 million
Patients, providers, payers, and others are the sub-segments of the market by end user. Among the three end users, the patients sub-segment was leading the market in 2018 with a total revenue contribution of $20.8 million.
In addition, segmentation data for the market is also provided for major regions such as North America, Europe, Asia-Pacific, and Latin America and Rest-of-the-World (ROW). Among the four major region segments, North America was leading the market in 2018 and is expected to continue dominating the market until 2029.
Leading Healthcare Chatbot Companies
Several companies are expected to play a crucial role in boosting the growth of the chatbots in healthcare market, according to the report by BIS Research. These chatbot companies include:
Ada Health GmbH
Ariana Digital Health
Babylon Health
GYANT.COM, INC
HealthJoy
HealthTap, Inc.
Infermedica
K Health, Inc
Kik Interactive, Inc
Pact Care BV
Sensely
Woebot Labs Inc.
Wysa Ltd
X2AI
Your.MD Ltd.
Buoy Health, Inc.
LIFELINK INC
Where to Learn More
For more information, see the comprehensive healthcare chatbots market research report by BIS Research, which draws on a mix of primary interviews and secondary research, along with analytical tools that have been used to build forecasts and predictive models.
---
About the Publisher: BIS Research is a global market intelligence, research and advisory company that focuses on emerging technology trends that are likely to disrupt the market. Its team includes industry veterans, experts, and analysts with diverse backgrounds in consulting, investment banking, government, and academia.